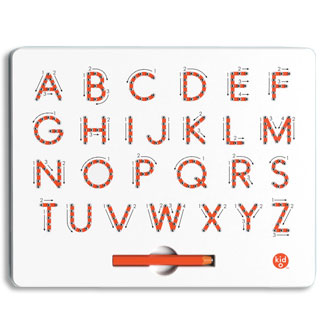 I was really excited when I saw this product, as  I knew it would be great for my 5 year old son who is struggling with his handwriting. I like a gentle approach to handwriting, but who has time to make pudding all day long and let them trace in it?! This solves my desire to let my son have hands on activities for handwriting, yet without the mess.
I would really like it if the pen was attached to the magnetic board. I'm trying to figure out a way to attach it myself.
Even my 13 month old loves to use this! The sound of the magnetics being pulled up keep her happy.
I really hope they come out with a numbers one, I would buy it!

Caroline
from Oak Grove, MO
The Magnatab is now available in Uppercase Letters, Lowercase Letters, and Number!! You can find all three at timberdoodle.com