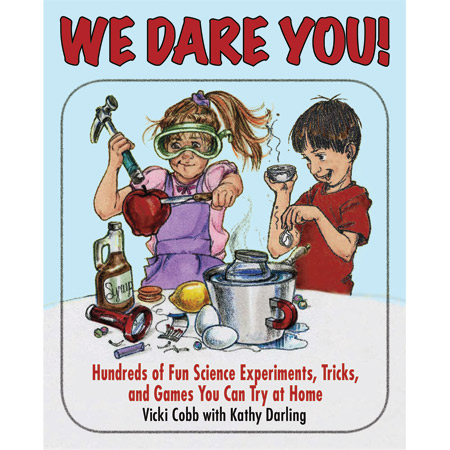 Upon delivery, I was meeting a friend at the park and happened to have the book with me. I'm somewhat of a compulsive reader and always have some sort of book with me. Anyway, we were discussing her upcoming science class and she was asking me for some easy science experiment ideas for her kindergarten co-op class. I pulled out the book and we started to brainstorm and gather easy almost no-materials required ideas. I lent her the book and offered to come into her class to help.
You'll be surprised by how hard and tricky some of the experiments in this book are.
This book is full of fun and more in-depth experiments, over 312 pages worth! My boys are always up for a science experiment. When they aren't building and experimenting themselves my youngest is always one to come and ask me for a fun experiment to try. I found this book to be invaluable, especially for two children who love hands on learning. Other experiments in the book require materials, but almost all can be easily found in your kitchen cupboard.
We thoroughly enjoy using it in our home school. When the kids are whining in our house, I'll shout out a page number and tell them to go do a science experiment.