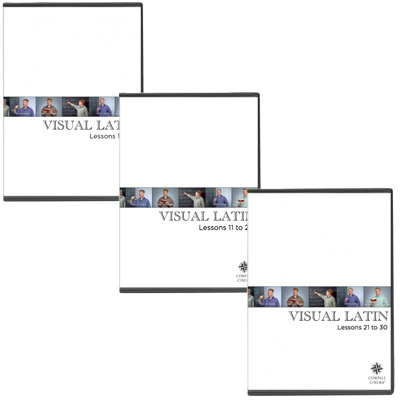 We used various media for languages, and had good results with all of them, but for Latin, we wanted to try a different approach.
The video format (in Visual Latin DVD) makes it easy for us to settle in and watch all the way through the lesson. No one has yet asked to be excused or leave the room for any reason because we are engaged by the teacher. His smooth presentation style, pacing, and bite-sized units work well. We are challenged, but do not feel overwhelmed with new material. The comical puns keep us smiling, but are not distracting from the material. Believe it or not, the lessons are fun.
The practice downloads reinforce the concepts without grinding you down – although printing and organizing three sets of worksheet was time consuming at the beginning. To keep everything straight, we have each set of worksheets in a three-ring binder with tabs for Grammar, Sentences, Reading, and Vocabulary Reference. After completing the exercises we read the answers aloud.

Debra Milford, DE