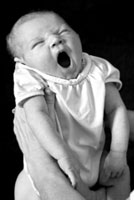 A Doctor's license is lost over an "unsuccessful" abortion where the "wrong twin fetus" was aborted. And as Albert Mohler so wisely points out, "What is the real scandal here — that this doctor was ready to kill a baby with Down syndrome, or merely that he aborted 'the wrong baby'?"
If your children are mature enough to handle this information, this is an opportune time to work this story through with them, help them decipher where this whole tragedy begins and where it will inevitably lead.
Read Albert Mohler's Article Here.