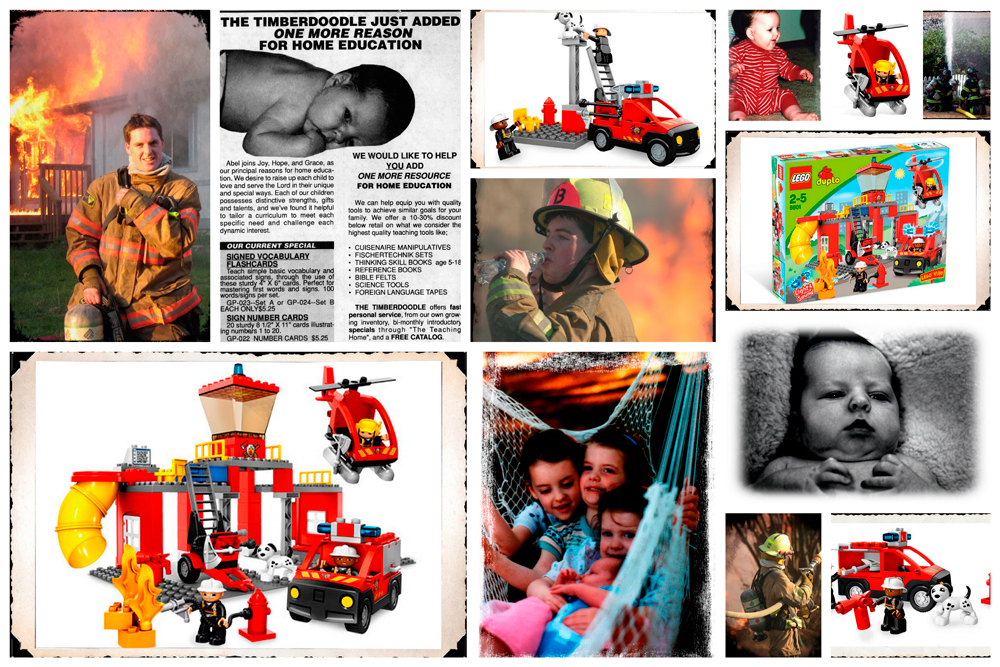 After joyfully welcoming 3 daughters into the family, this announcement from the delivering doctor came as quite the surprise! Of course, we were all eager to help name him. I was 6, Hope 4 and Grace 3; and we had been reading, rereading and just poring over a book about the pilgrims. Our name suggestion? Squanto! We couldn't understand why Dad and Mom turned down our brilliant suggestion in favor of Abel Daniel…
In addition to working for Timberdoodle and leading music at our local church Abel is currently a volunteer lieutenant with our local fire department and has worked 2 summers for the department as an EMT/Firefighter. Even as a very little guy, Abel wanted to be a firefighter, and it is fascinating to look back and see how many of his birthday gifts and interests centered around this dream. In light of that life-long passion, it seems appropriate to celebrate his birth by giving away a Lego Duplo Firestation!
Today's Giveaway
As children we spent hours and hours with our Lego Duplo sets. We built houses with huge families and hospitals with primarily pediatric patients. Our Duplos not only survived for all 5 of us along with assorted Bible studies and guests… but we still use our very early Duplos when we help out with church nurseries and with the little ones we babysit. When the Duplos get dirty, we just toss them in the dishwasher and they are good to go again! We are excited to welcome back an assortment of Lego Duplo products, and are certain that the winner of this Duplo Fire Station set will find it is good for hours of creative play!

Or read all about the giveaways here