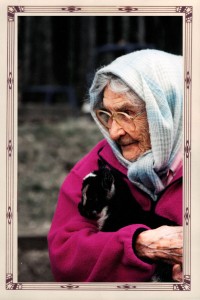 Grammy with the bottle-fed goat kid an employee brought to work here at Timberdoodle.
Like all businesses, Timberdoodle had to work harder in 2002 than we had in a long time. God was gracious though, and time and time again we saw Him at work. In August we were even able to take Grandma and Grandpa up to Alaska, where they had wanted to visit for years and years. This was even more of a blessing to them because they were taking care of Grandpa's Mom, Grammy. While this was truly an amazing blessing for all of us, it was also a lot of work, as anyone who has done elder-care can attest! The break in the routine was blessing for all, and our Alaska trip is one we look back on with lots of good memories!
Grammy was born on the Isle of Mann and her family of 12 actually crossed the USA as part of a wagon train. After losing her husband, she lived alone until the year 2000 when she moved in with Grandpa and Grandma just after her 101st birthday. By 2002 her memory was failing a little, and she really couldn't be left alone – meaning that Grandma retired from Timberdoodle work in order to be home with Grammy. Grammy was as spunky as ever though as she embarked on a cover-to-cover read-through of the Bible at 102. Despite being quite familiar with the New Testament and having much of John 14 memorized she couldn't remember having read all the way through the Old Testament before and simply set out to do so!
Soon our family was down there every week for a hymn sing-along, and the richness of those hymns soaked into our bones. Eventually we took turns 'babysitting' every Sunday so Grandma & Grandpa could get to church. Grammy's abundant stories were memorable and amusing, though I think the one we laugh about most was the time she told about her big family shooting a bird for Thanksgiving dinner – "a canary," she said! We knew she probably meant turkey, but that didn't stop us from laughing later, trying to imagine 12 people sharing a canary dinner!
Grammy never lost her affinity for sweets. One Thanksgiving we had a large chocolate turkey as a centerpiece and she couldn't stop marveling over it. She also informed us that she would consider using a lift chair later, "When I am old!" The best thing about Grammy though? She was sweet, gracious and caring, long after her hearing and mental abilities diminished. Every time we helped out, from watching her for a few hours to the around-the-clock care of hospice, she smiled and thanked us. What an encouragement!
Grammy shaped us in ways we could never have imagined. I really don't think I would be an EMT today if not for the time spent caring for Grammy and even bandaging up her fragile skin. Much more importantly, her gracious spirit even when dementia set in makes me want to be molding my character now so that when all the pretense that memory gives me is pulled away the "real me" that comes out is one that loves and reflects Jesus. At the same time, I am encouraged to know Grammy didn't have to get there on her own. The same God who carried her through the loss of a daughter, widowhood and so much more, was faithful to carry her through old age as well, and will be faithful to us.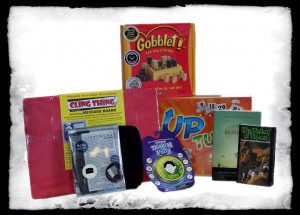 About Today's Giveaway Collection
Elder care is demanding, often overwhelming, and yet watching Grandpa and Grandma care for Grammy was a tremendous demonstration of Christ's love. For today's prize we have assembled our favorite tools, books and games to serve those of you in this role. Don't think you have a use for them? I'm sure you know someone who would be delighted to know that someone is thinking of them as they serve the "least of these."
Thinking Putty
We have used Thinking Putty to build hand strength by squeezing, or you could put marbles in it for him to find and remove. Or for cold hands, microwave Thinking Putty until it is warm and then knead.
Cling Thing
We used this with my other Grandpa, as a place for displaying the grandkids' pictures, his birthday cards, etc.
Gobblet
A 3D version of Tic Tac Toe, most grandparents will find this game easy to learn and great for playing even with young grandkids.
Upturn
If your grandparents are into number games, as mine are, this game is perfect. Complex enough to work everyone's memory, but intuitive enough that everyone can play. A personal favorite.
Paperback Lightwedge with case
For easier reading in poorly lit places.
Valley of Vision
A poignant treasury of prayers to help us draw close to Jesus.
Sunsets
This is the one book I really wish we'd had while doing hospice care for Grammy. We didn't know what to expect or how to help her, and this would have been an invaluable resource.