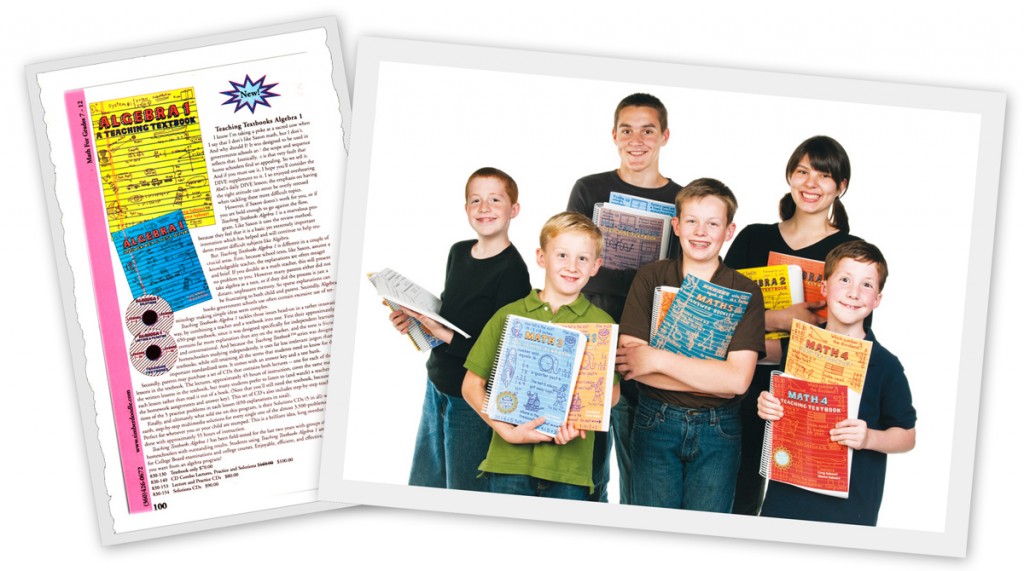 Do you wish you could do math over again? I do, and it is not that I particularly struggled with math, but I never mastered it and instead just got by with doing the minimum. I think if I'd had Teaching Textbooks as a student, it would have made all the difference, and in reading your reviews, I see that MANY of you agree! In retrospect, adding Teaching Textbooks to our curriculum smorgasbord was the biggest event of 2004. It has played a key part in our curriculum recommendations and our own family's math program (for those not yet graduated) ever since.
About Today's Giveaway
The Teaching Textbooks series is written with home educators in mind, so it combines a teacher and a textbook into one. Since their textbooks were designed specifically for independent learners, they contain far more explanation than any others on the market, and the tone is friendly and conversational. Because the Teaching Textbooks series was designed for homeschoolers studying unaided, it uses far less irrelevant jargon than other textbooks, while still retaining all the terms that students need to know for those important standardized tests.
What ultimately sold me on this program for the more complex upper level math, were their computer CDs with down-to-earth, step-by-step multimedia solutions for every problem in the book, plus an additional CD-ROM with complete, step-by-step solutions for every test problem. The lectures — one for each lesson in the textbook — provide hours of instruction…
Read more about Teaching Textbooks here.
Teaching Textbooks is our most-reviewed item, and we have received hundreds of Teaching Textbooks reviews. Check any of the titles below to read other families' thoughts.
Teaching Textbooks Math 3
Teaching Textbooks Math 4
Teaching Textbooks Math 5
Teaching Textbooks Math 6
Teaching Textbooks Math 7
Teaching Textbooks Prealgebra
Teaching Textbooks Algebra 1
Teaching Textbooks Algebra 2
Teaching Textbooks Geometry
Teaching Textbooks PreCalculus
If you win, you will get to pick your choice of any of these titles!

Or read all about the giveaways here