A delicious, robustly raspberry dessert with a layer of cream cheese, a delicious nutty crust, and topped with Cool Whip; this dessert is a favorite with our family, coworkers, and even the local fire department!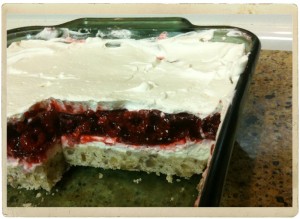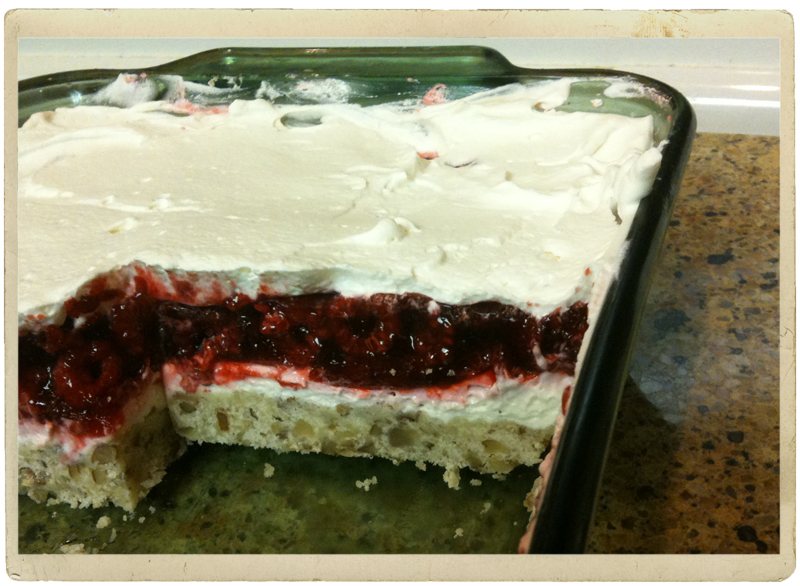 Ingredients
Crust:
2 cups flour
2 cubes butter
1 cup finely chopped pecans
Middle:
8 oz. Cream cheese
1 cup Cool Whip
1 cup powdered sugar
Top:
1 lg. Pkg. Raspberry Jell-O
2 cups boiling  water
24 oz frozen raspberries
Cool Whip
Directions
Make The Crust
Preheat oven to 300 degrees.
Cut butter into flour and add nuts.
Pat into a  9" x 13" pan.
Bake 10 – 20 minutes or until edges are golden brown.
Set aside to cool.
Make Filling
Mix cream cheese, 1 cup cool whip, and powdered sugar.
Spread on cooled crust.
Put in refrigerator and let set up.
Make Raspberry Layer
Mix Jell-O and water.
Add frozen berries.
Pour over cream mixture and refrigerate until set.
Frost with with Cool Whip and keep refrigerated until served!