The Winner Receives
Chemistry 101, retail $69.95
Ages: 15+
Includes:
19 individual segments, each 20 to 45 minutes long, for a total running time of over 11 hours. Four DVDs; the fourth DVD includes a printable Guidebook and Quizzes in PDF format and, for your high school students, a Course Accreditation Program PDF.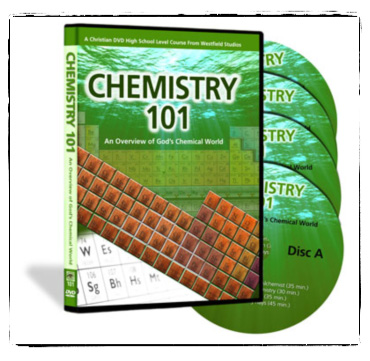 From Timberdoodle.com
Yes, chemistry really can be painless, understandable, and fun! Chemistry 101, from the same great makers as our popular Biology 101, takes the essentials of Chemistry and presents them in an enjoyable DVD format.
Chemistry 101 is divided into four main sections: The Road to the Periodic Table, Chemistry Essentials, Meet the Elements, and The Future of Chemistry. By the end of Chemistry 101 you will understand what the Periodic Table means and how to balance chemical equations, and have an introductory knowledge of every element. You will also learn a plethora of scientific history, from Tubal-Cain to Robert Boyle, from alchemy to the discovery of sub-atomic particles.
Filled with visual explanations, humorous asides, and a handful of simple experiments that you can replicate, Chemistry 101 is a chemistry DVD series your entire family will enjoy learning from.

Customer Review:
I recently purchased this DVD set for my family. We already own and love the Biology 101 series and were looking forward to watching these but they have definitely become the new favorite! My 13yr will come home from an outing and beg to be able to put in the next cd. Even my "anti science" child has been drawn in! I love that it includes the history of Chemistry as well as explaining the periodic table in a fashion that we can all understand! We are memorizing the periodic table this year and this has made it so much easier! The one caveat – it is little confusing that each section ends with the credits for that section. You must go back to the menu and access the next section on the disc. The 101 series make science understandable and these cd's are easy to use. In our home these DVDs are a visual accompaniment to our regular science curriculum however, there is also a guidebook and accreditation info on the last disc for those who prefer.
Reviewer: Carmen Denos from Dundee, OR
Who Won the Drawing?
The winner was: Deborah Flora!
If you're trying to figure out the comments, the question we asked was If you could invent a curriculum, what would it be?