Our approach to Christmas has always been nontraditional and eclectic. So what are we doing this year?
Simple Decorating
Pearl usually takes on the task of sprinkling the house with nativity scenes, a camel tapestry and more. We have a wide variety of nativities, including a plastic one set up specifically for the Bible Study toddlers to play with, a lovely wooden nativity from my grandparents, a handcrafted set with beleaguered characters and meaningful-only-to-us accessories, and the newest addition, a ceramic nativity lovingly brought back from Peru by my cousin.



Monday Meals
I know, it's not the most brilliant name, but for years now we have had a tradition of feeding the entire Timberdoodle crew a hot meal at noon every Monday from Thanksgiving to Christmas. This year's menus have included cheesy potatoes with kielbasa, cookies, and even a breakfast theme with egg casserole and "World Famous" homemade cinnamon rolls!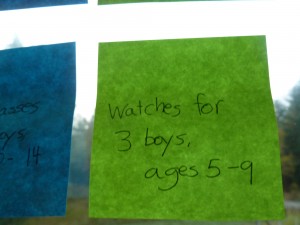 Shoeboxes
We love building shoebox gifts with our whole Bible study! This year our small group shipped 18 boxes, and were excited to already hear that they have arrived in the Philippines.
Christmas Eve Service
Our small church is hosting its 4th annual Christmas eve service, a highlight of our year. Lots of worship through songs and Scriptures, complete with communion and fellowship (cookies) afterward. From making cookies and arranging the sanctuary to running sound and printing invitations, our family loves to take an active role in this event.
Christmas Day
With Christmas falling on a Sunday our Christmas Day is looking busier than ever. We'll start with our regular involvements in our church service, then have Grandma and Grandpa over for a noontime Christmas dinner. Pearl's birthday is on the 23rd, so we'll have a combined Christmas/Birthday celebration. After that, there are plans for all who want to participate to head over for our first time helping out at a Christmas event helping the homeless in our area.
Wiseman Party
We save our gifts for New Years, to avoid being distracted from Jesus on Christmas day. (We don't wait for Epiphany – mostly to take advantage of the time off at New Years!)
Our celebration has varied a great deal through the years. When we were young we each picked out a "family gift" that the whole family would enjoy, then went on a long treasure hunt to find them. I think this year's celebration will likely include a treasure cake (chocolate cake with caramel in it) and watching videos as a family, in addition to camel bags.
Camel Bag On The Back Of One Of Our Dining Room Chairs
Camel Bags
Camel Bags have been part of our Christmas/New Years tradition for years. (We debated about outgrowing this tradition, but it is so much fun that we weren't all ready to move on!) In a nutshell, we each buy small, identical gifts for every member of the family, including ourselves. The trick is to find something creative that everyone in the family would enjoy – toothbrushes, candy, coats and flashlights have all been given in past years. In recent years we all decided to add a matching policy where each person donates an amount equal to what they've spent on gifts to their favorite charity. That just helps us keep our focus, while still enjoying giving gifts. Click here to read more about Camel Bags and here for directions to make your own Camel Bags. (If you actually do make your own, we would LOVE to hear about it!)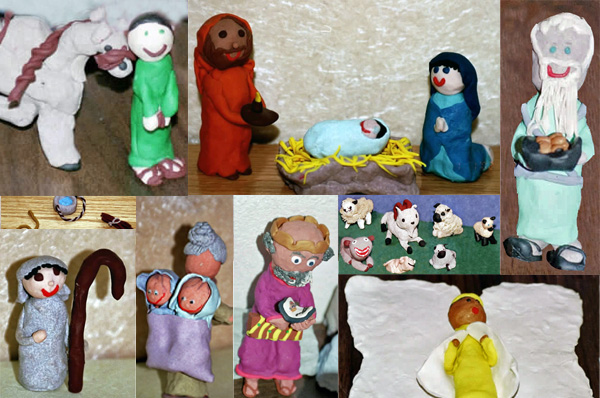 Handmade Nativity
Each year we each make an angel, shepherd, wiseperson, animal or other nativity prop to add to our hand-crafted nativity scene. In recent years we've worked hard to incorporate some element of the past year into the figure – angelic Krissy for the year we spent so much time with her, wise woman with a walker for the year we did a lot of Grammy care, cookies for the year of baking… This tradition is made MUCH more interesting by the fact that none of us are gifted in sculpting!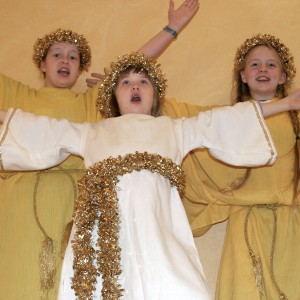 What We're Not Doing in 2011 – Christmas Reenactment
For year's we've reenacted the Christmas story but for the past few years our emphasis has instead been on the Christmas Eve Service. If we had the time and energy, this is a tradition I'd love to revisit, it was such a delight to be able to tell the Christmas story at the local nursing home and see the residents light up watching the little kids!
Links You'll Probably Love:
Why Lie To Your Kids About Santa?
We really enjoyed this article and Clint's perspective. Be sure to click over to our Facebook page as well to join the discussion!
3 Tips for making Christmas More About Christ
We were surprised by the strong reactions we received from this letter – some in agreement and others absolutely horrified at our perspective!
Don't forget the Heart!
Our 2009 December newsletter departed from the controversial to remember what is really important at Christmas.
You Don't Celebrate Christmas?
I loved this post by Renee of Baker's Dozen and Apollo XIV, in fact it inspired this recap of our own family's Christmas traditions.