In 2011 we realized that our baby/toddler/preschool packages were confusingly labeled, so in an attempt at clarity we now have transitioned to Baby & Toddler combined (0-24 months) Preschool (2-3 years) and PreK. (3-4 years)
More of a visual person? Here is how that looks: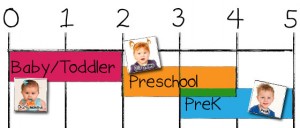 (Click here to see this year's and last year's kits on a side by side timeline.)
What you can't see in the timeline though, is that all the lines are blurry, especially at these early ages. Some wee ones are eager for their own 'workbooks' before their second birthday, while others are not ready for at least a year after that. That is why we've developed these kits with some overlap in age range. However, they are also designed to be sequential, meaning that a child who has finished preschool is ready for preK, regardless of age. Still unsure? Maybe this will give you an idea of where to start.

Baby & Toddler
Reading, sign language, active play, puzzling and stacking… More than toys, these are educational tools for your tiniest ones. Intended for birth until your little one is ready for a workbook. Nothing consumable means that you can expect to use this kit for all of your children!

Preschool
Includes music to sing, more books, puzzles, Wedgits, hands-on science exploration and their very first workbooks. Jump into this kit when your child is ready for their first pencil work; by the time you've finished it both of you will be ready to step up the academics.

PreK
Now learning gets more structured, but of course without losing any of the fun you've both been having so far. Math, language arts and thinking skills may sound rigorous, but there is also lots of time for exploring with your new science tools and making artful masterpieces. Remember, your little one is just as curious about math as he is about colors, so don't be afraid to introduce him to concepts typically reserved for formal academics. At the same time, don't rush your child! Set a pace good for both of you, taking either one or two years to work through the material.

Kindergarten
Is your child eager to start reading? This is the grade for them! Yes, kindergarten is typically for 5 year olds, but if your child has finished PreK or is simply eager to read, this is where you'll want to start. (Of course, you could also just add The Reading Lesson to an earlier grade if that would make more sense for your child.) From here you'll go into 1st grade, then 2nd and so on. Each kit from Kindergarten on up is designed to take a school year, but here is where your flexibility as a homeschooler really comes into play. If you have a child who is eager to move on, why not let them finish early and do so? Or if your child is struggling, why not slow down or back up and figure out where the issues are?
I Have A 2011 Kit
As a general rule, the child who completed 2011 Baby is ready for 2012 Preschool, after finishing the 2011 toddler, move into the 2012 PreK, and the child who completed the 2011 Preschool is ready for 2012 Kindergarten. If you find that leaves you with gaps you'd like to fill just let us know when you order and we'll be delighted to customize your new kit to include the 'missing' items!