We are often asked about the documentation included in our Core Curriculum Kits, and with good reason. You know that your curriculum manual will set the tone for the year. With that in mind, we wanted our Scheduling Helps Folder to be extremely simple, easy to use, and promote independent study. We wanted you to be up and running today without being overwhelmed, bored, or confused. So what exactly do you get and what does it look like?
Each Core Curriculum Kit comes with its very own Scheduling Helps Folder. We are still in the midst of revising them for the 2012-2013 school year, but this link to first grade will let you know roughly what to expect: http://www.timberdoodle.com/v/pdf/2011/2012TimberdoodleFirstGradeCurriculum.pdf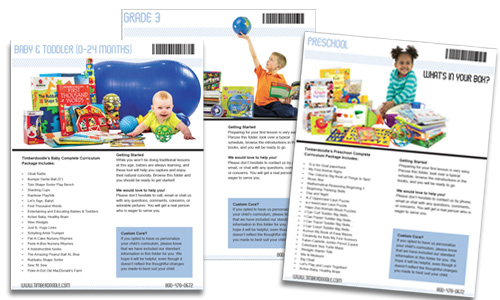 Since you'll want to know right away what was supposed to be in your box, we start with a list of everything in this year's curriculum.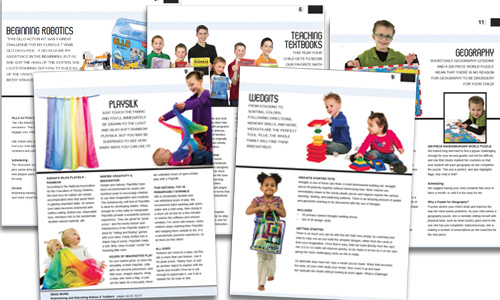 Go to the next pages and you'll find we've included a quick overview of each of the items in your kit with just enough information to wow Dad and excite your child. We've also noted on each item scheduling tips, including how much to do a week if you would like to complete the entire coursework over a typical 36-week school year.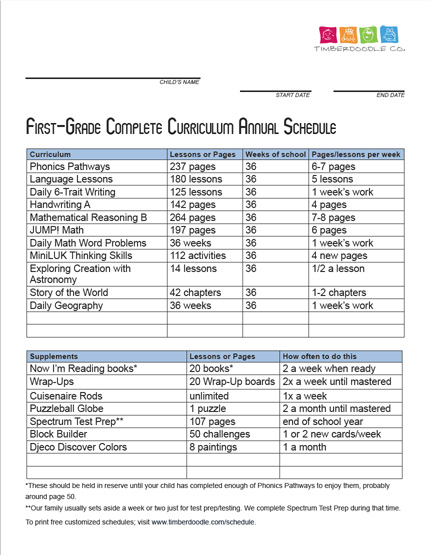 Continue on past the book by book summaries and you'll find 2 important schedules. One is an annual planner which includes each book and kit included in your core curriculum and how many lessons or pages or chapters or… are in each. We've already filled it out for a typical 36-week school year but you'll be able to easily refigure it if you like. We've chosen this approach so that you can have an entire school year at a glance in a simple fashion.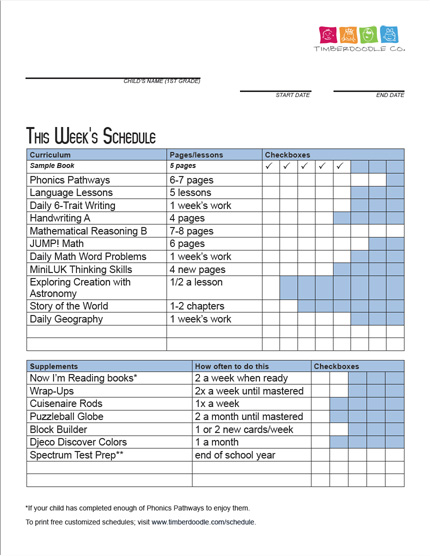 The second schedule page is a simple weekly checklist so that your students can check off their work as they accomplish it each week. This takes you away from micromanaging your students and lets them be responsible for their own work. In our family we had a family night every Friday. Those with their lists done were welcome to be a part. I think we each had to have at least one week where the realization would sink in that all we'd done Monday-Thursday was play, and we would have to be doing math while everyone else was having fun. But in the long-run learning to be an independent learner is an invaluable lesson itself.
All of this is included with a full-color standard-sized (so it holds ordinary papers easily) heavy folder with two deep pockets. We suggest using it to store your weekly checklists for the entire year, making your record keeping easy, or put it to work wherever it will be most useful!
Of course, you'll also find all of the important teachers' manuals and program-specific resources you need included in each Homeschool Curriculum Kit. Our Scheduling Helps Folder is not meant as a substitute for those manuals, but rather as a helpful summary and scheduling guide.
Unlike virtually every other curriculum kit we've ever seen, these entire folders are available as free downloads. This is for two reasons. First, we want you to be really excited about what you are buying and to know for sure that it will work for your family before your purchase (although we do have a 60-day return policy, just in case). Secondly, we really want your family to succeed at homeschooling and we know that purchasing an entire kit is not possible for everyone. Perhaps you are economizing by purchasing used curriculum or using your local library. We applaud you for the extra effort you are undertaking and are delighted to help in a small way! Hopefully when you do have to purchase items you'll remember us, but if not we at least have been able to fulfill our ultimate goal – helping your family homeschool! For your convenience, here are the links to those guides, which have been revised for 2012.
Does this help? Do you have more questions? Don't hesitate to leave us a comment or email us: mailbag@timberdoodle.com