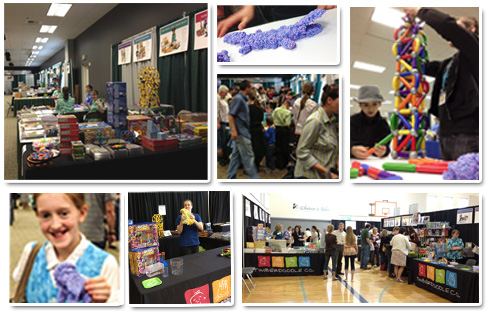 These are the conventions we are currently planning to attend as a vendor in 2012. Drop by our booth to take advantage of conference-only sales, free eraser puzzles for those who try a Smart Game, and free tote bags with your purchase; all while supplies last! Our conference team this year includes much of the "Original Timberdoodle Family" and we are always happy to answer questions and help in any way we can. Do you have something specific you hope we'll bring to your local convention? Please email us ASAP and we'll see if we can possibly throw it in for you. For most conferences asking a week in advance suffices, but for the the last three listed here we need to know by July 3rd in order to consider bringing it.
If you're interested in having Timberdoodle be a part of your local convention in 2013, please have the conference coordinator send information directly to Hope@Timberdoodle.com Because of the costs of purchasing booth space and putting our crew on the road, we are particularly interested in conferences with 3,000 or more attendees but we do consider all requests and are always flattered to be invited, even if we can't make it happen!
Christian Heritage Homeschool Conference
Redmond, WA
April 26th-28th
http://www.christianheritageonline.org/
California Homeschool Convention
Long Beach, CA
May 24th-26th
http://www.californiahomeschoolconvention.com/
CHOIS Walking in Joy Conference
Boise, ID
May 31st-June 2nd
https://www.chois.org/
WHO Convention
Puyallup, WA
June 15th-16th
http://www.washhomeschool.org/convention/convention.html
OCEAN Oregon Christian Home Education Conference
Portland, OR
June 22nd-23rd
http://www.oceanetwork.org/calendar/conference/
CHEA 29th Annual Convention
Pasadena, CA
July 12th-14th
http://cheaofca.org
AFHE Convention
Phoenix, AZ
July 20th-21st
http://www.afhe.org/convention_details.html
Valley Home Educators Convention
Modesto, CA
July 27th-28th
http://valleyhomeeducators.org/annual-homeschool-convention/
So will we see you this year?