Djeco, one of the most popular toy manufacturers in Paris, is a family-owned company that is dedicated to designing imaginative art kits of the highest quality. Their fifty years of experience in producing dazzling art kits has been leaving smiles on children and their parents all over the world. Packed with personality to appeal especially to toddlers and younger children, parents will be pleased with the low prices and high quality of all Djeco art kits. Every Djeco kit is made with the highest standards and has met and even exceeded European safety standards, so you are assured that you're giving your child the safest of art kits. This is particularly important when you consider how young children tend to immerse themselves in their art!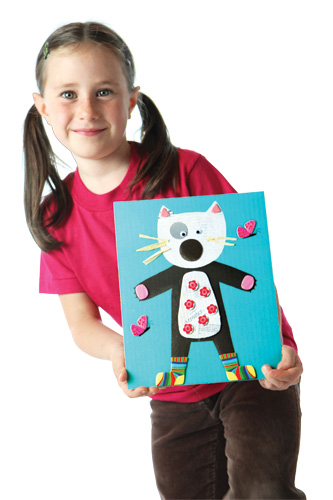 Djeco Collages for Little Ones, $22.99
Ages: 4+
Djeco Collages is more than just an extraordinary craft kit for little ones, though it is certainly that. To us, the huge appeal of the Djeco Collages kit is how it engages both sides of the brain to create art worth framing. The spiral-bound wordless instruction booklet leads your child step-by-step through the process: first the whiskers, then the nose, and soon the entire animal is complete. Your little ones will be challenged to match the appropriate number of pieces and place them correctly to finish the picture.
Djeco Collages is a terrific kit to reinforce fine-motor skills, visual discernment, counting, and logical sequencing. The result? Eclectic art that is both hip and retro and is suitable for hanging in the playroom or at the office. Djeco Collages comes with four large, beautifully illustrated, printed images – a bear, a rabbit, a cat, and a mouse – on very thick cardstock and chunky, colorful, pre-cut cardboard pieces with lots of fun accessories, like the always child-pleasing wiggly-eyes. The felt, paper, eyes, and thick cardboard pieces are organized into small envelopes to avoid confusion. Djeco Collages also includes a glue stick and a detailed, illustrated, step-by-step instruction book, all packaged into a sturdy gift box. For ages four and older.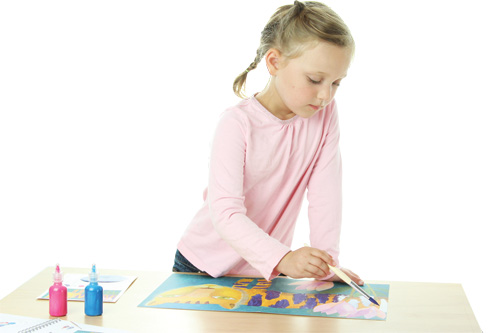 Djeco Discover Colors: Hide and Seek, $29.99
Ages: 4-6
I love this kit! Djeco Discover Colors: Hide and Seek is both practical and inspiring. Djeco knows that children prefer to create only after they have some basic skills. Discover Colors: Hide and Seek contains everything your young artist needs to understand how to mix paint colors, providing him with brilliantly simple instructions and lovely materials worth working with.
Unlike the typical children's paintbrush that sheds worse than our horses do in spring, Discover Colors: Hide and Seek's paintbrushes are elegant in appearance and sized right for the task. Includes gouache paint, which is highly pigmented and delightful to work with. Far superior to the traditional children's paint by numbers sets, Discover Colors: Hide and Seek has eight large, partly illustrated prints to complete. Following the spiral-bound, full-color picture instruction book, artists are clearly shown what colors, and what quantities, to mix together to make the shade needed to complete the whimsical pictures.
Discover Colors: Hide and Seek makes a spectacular gift for any budding artist who is ready to learn how to mix paint colors. Discover Colors: Hide and Seek includes two distinctive paint brushes, four bottles of paint, and a fully illustrated instruction booklet, all packaged in a charming box.
Ready to Win?
To enter, simply tell us which of these Djeco Art kits you want to win. If you want extra entries, you can also use PunchTab. Out of all the comments and entries we receive, we will draw one name (courtesy of random.org) and award them the book they picked. Winners must have a USA shipping address, see all the rules here. Drawing ends Monday, August 6th, at 10AM PST.