Tiny tots are naturally eager learners. Those with older siblings are often extremely eager for their own workbook pages, and even firstborns seem to see schoolwork in general as a puzzle to figure out. But it would be easy to squash that joy if you handed them pages too hard, dull, or repetative. We've reviewed so many workbooks for this age that we've lost count, and sadly most are, in our findings, a waste of time and money. The exception? These Big Skills workbooks. Pages are filled with color, variety and child-friendly themes. Who wouldn't love cutting grass for a tiger to lurk behind? Or finding all "E"s in order to complete a simple maze? This week we have 6 lovely books to give away, geared for toddlers through PreK; all you have to do is pick one!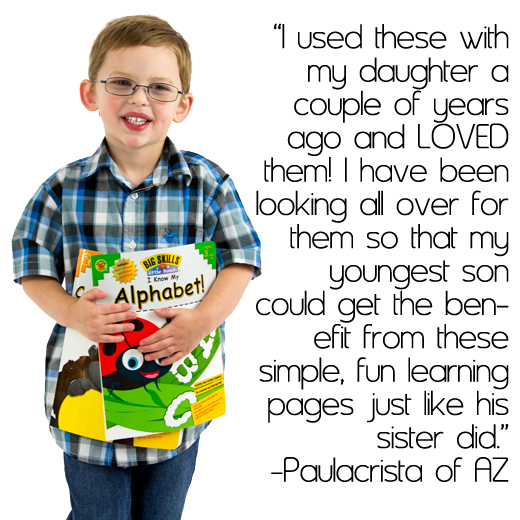 These fine books are also part of our Preschool and PreK Curriculum Kits.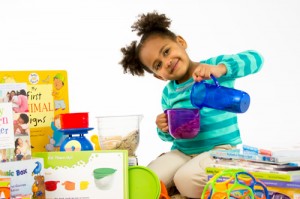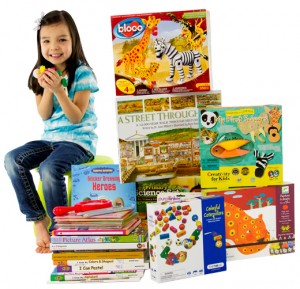 Ready to win?
To enter, simply let us know:  Which Big Skills workbooks(s) would you like to win? (Each winner will only win one book, but if you give us your preference we will do our best to get you a perfect fit when you win. We are giving away one each of all 6 titles.) If you want extra entries, you can also use Punchtab below. Out of all the comments and entries we receive, we will draw one name (courtesy of random.org) and award them the book they picked. Winners must have a USA shipping address, see all the rules here. Drawing ends Monday, October 22nd, at noon PST.