Hi! We are the Muller family from Colorado! I am Lacee a homeschooling mom to Cash, 6 and Vida, 2. Dad, Nate, is a firefighter and on his off days we work together to run a family window coverings and home decor business. We are always about knee deep in projects of our own around the home and full of dreams. We walk by faith and run on Starbucks!
Our Morning:
A typical morning around here begins with our up-with-the-sun big one, Cash. Every day since forever, he has been up at 6:00 am. No clock necessary… bright-eyed and ready for the world. Cash typically makes his bed, dresses himself while I get ready for the day and then I follow Cash downstairs, and begin a load of laundry on my way to the kitchen.
We make breakfast and Cash helps to unload the dishwasher.
Once breakfast is complete our little ball of fire, Vida is ready to tackle the day and is waking. We go to get Vida, change her clothes and head to breakfast.
After breakfast, we sweep the floor and head to Starbucks … a short distance from our home. Sometimes during our drive Cash likes to visit our local airport and check out the sights.
We head home and, in the summer, hit the trails for a good walk and follow that with tending to and watering our garden with some outside play.
During school times we gather for reading time and do some daily chores around the house. We switch loads of laundry and get lunch started by 11:30.
Our Afternoon:
We make lunch together or the kiddos are playing while I make lunch. If Dad is home he is a particularly good lunch maker :).
While eating we dive into the Bible for whichever study and or lesson we are doing at the time.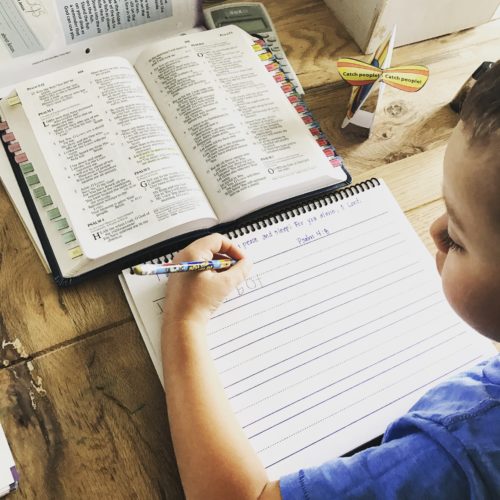 Lunch ends and Vida heads up for her nap.
I pick up and sweep the kitchen and tackle a few more quick chores and Cash and I head out for some yard work and play during the summer months.
During our school time, he and I would enjoy an afternoon of school.
This last school season we used BJU Bible Truths, Spelling You See, Saxon Math, Heritage Studies and Geography Unit Studies, Spanish, and Storytime Treasures. There are usually snacks involved here. 🙂
Vida wakes around 3:30 or 4:00 and we get her and have a healthy snack together.
We then head upstairs to finish some of the laundry and upstairs chores during the heat of the day.
We may then head outside to play until dinner.
Our Evening:
Dinner is most often by 6:00 and we follow with bath time and bed time. 7:00 for Vida and 7:30 for Cash.
If Dad is home, he handles the bath and bedtime and I clean up the kitchen and start the dishwasher so we are prepared for another day.
I read or enjoy time with Nate and we head to bed embarrassingly early.
Just for Fun:
During the school season Cash is involved in a home school PE group on Tuesday afternoons.
I also volunteer at our local CHEC office once a week.
Our daily routine is fairly solid and we try to work in only minimal outside activities to ensure we are doing our best to keep everyone healthy and well rested.
Follow Us on Social Media:
@lacemuller