Hello All! I am Britni, homeschooling mama to Philomena who is 2-going-on-12. I am a doula in training in my spare time and my husband Greg is an internal auditor. We love being outside exploring which is great for our dog Watson. Our family is also anxiously awaiting the arrival of our newest little one mid summer. We live in St. Louis, Missouri.
Our Morning:
Dad is always up early and out the door first.
Some time after I ever-so-slowly get myself out of bed and to the kitchen for some coffee (most important) and first breakfast. More often than not I eat by myself as Philomena begins to wake up.
After Philomena gets up and takes a potty break we make her breakfast and juice and she eats while I eat second breakfast.
We clean up the kitchen and get the days laundry started, Philomena always has to check to make sure I put detergent in the washing machine.
Then we get cleaned up for the day. If there are any big chores that need to be done we either do them together or she plays and periodically checks in on me to make sure I'm doing all right.
We then start our preschool program, which is currently modified for practice before we really begin in the fall after baby arrives. Philomena loves to learn and practice her fine motor movements. Critical thinking skills are always stressful for her so we do that first so we can move on to things that she likes, like tracing and math. We keep it lighthearted and fun and that always takes us right into lunch time!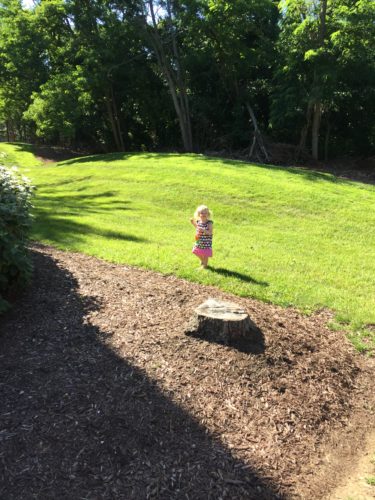 Our Afternoon:
We always allow Philomena to design her own lunch (with guidance of course). Philomena and I eat lunch together sometimes with a phone call from Dada, sometimes we chat, and sometimes we watch a nature show together.
Philomena always naps in the afternoon and I work on my doula business and take some time to myself to read a book that's not labeled "for 2+" or "beginner reader," usually with a cup of tea or a soda, depending on what the day has called for.
Dada typically walks in the door right as Philomena wakes up.
Our Evening:
Evenings are always family oriented. My husband and Philomena typically go for a walk while I start dinner. Yesterday they went to the library to switch out our book stash.
While they were gone I started the chicken pot pie we were going to have for dinner. I typically take the time while I'm making dinner to reflect on my day and what I can do better the next day. Usually I reflect upon how I can be more patient with her and respond more sincerely to her many, many questions.
We eat together as a family and begin Philomena's night time routine shortly after dinner.
Philomena and I read books together then she goes down for bed and my husband and I clean up and relax together.
Just for Fun:
We are involved in a local moms group that puts on various events in our area. So depending on which ones we decide to go to, our daily and weekly routine may shift around a little bit. I try to pick things that won't drastically cut into our routine too much or else it becomes too stressful on everyone.