Hello! We are the Owens family of Arizona. I'm Julie. There are four people in our family. My husband, me, our son (almost 5 and doing Timberdoodle's kindergarten curriculum), and our daughter (who is almost 1 year old).

My husband is self-employed and I have the pleasure of staying home with our kids.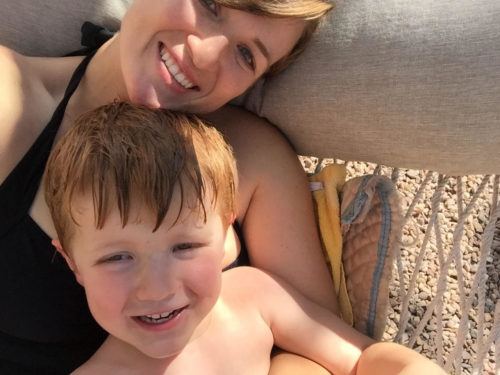 We were going to wait till August to start school, but my son was too excited to wait. We have already done one month of school and he is loving it!
Our Morning:
My son is always the first to wake up. Instead of waking the rest of us up, he likes to color in The Big Book of Things to Find and Color (available in the kindergarten curriculum of Timberdoodle). If he is hungry he will get a yogurt out for himself. We just recently taught him how to make a few things too, like bagels. He loves being able to be more independent!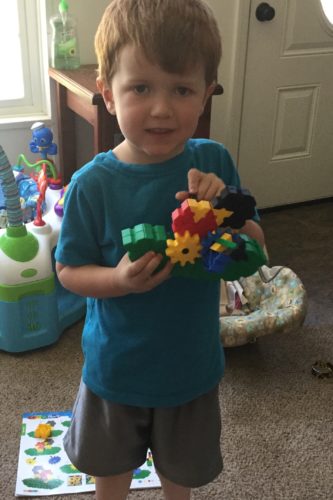 Shortly after, my daughter wakes up for the day. I get her changed and feed her breakfast.
My son is usually begging to do school before 8:00 in the morning. We start after I have breakfast.
My husband wakes up, has breakfast and goes off to work.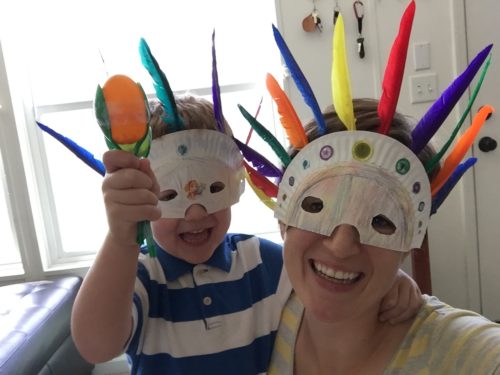 I try to start out with the reading lesson each day, but sometimes I have to put my daughter down for a nap, so I give my son things that he doesn't need my help with.
Our school day lasts anywhere from one hour to two. I have a schedule planned out each week, but sometimes my son likes to do more than I have written down (which is why I always write it in pencil).

Our Afternoon:
After school we get lunch ready and take it to where my husband is working. We love to have this time with him!
After lunch, we go back home and clean up if we need to. My son loves doing his chores and is extremely helpful. I know I am very blessed in this respect!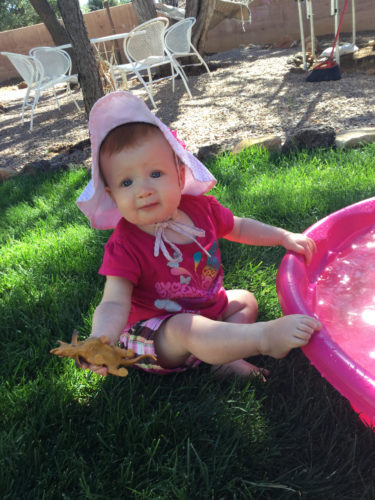 His little sister usually comes through and helps make things messy again for him!
Our Evening:
A lot of the time my son will help me with dinner, but he usually plays with his little sister while I cook dinner.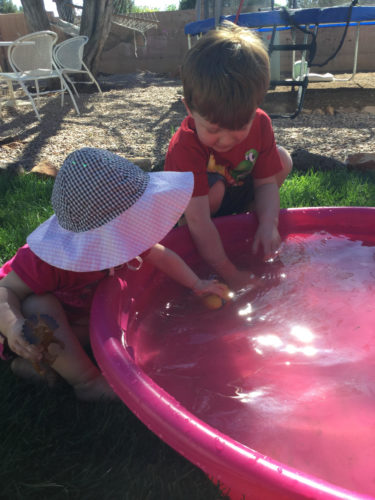 My husband gets home from work when we are all done making dinner.
After dinner, the kids get ready for bed, and if we have time, we get to play a family game before bedtime.
Then it's off to bed! That is our day in a nutshell.
Just for Fun:
We love to play outside. We have a swing set and a trampoline in the back yard that my kids love to play with. We get to have friends over sometimes too.
In the fall we will be in a homeschool group that meets every week. They do a service project every month. They have park dates, pool dates, and do lots of fun things! I am looking forward to that.
My son will also be doing soccer in the fall.