We're the Mann family of northern Iowa, and my name is Lisa. We're a family of four plus a lazy coon hound.
The oldest boy is Oliver and he will be 4 in November. His younger brother is Miles and he just turned 2 last week.
I stay at home with my boys every day and we have the best times together! I bake and cook most everything from scratch, and they love to watch, help, and even clean up.
My husband, Kyle works for an auto parts store as the new general manager.
Our coon hound's name is Buster and he is the boys' best friend. He also loves food.
We love spending time together by going to the park, pool, Dairy Queen, our own backyard, or relaxing together by watching a movie and eating popcorn.
Our Morning:
This morning, as with most mornings, Kyle woke first and was off to work before anyone else even got out of bed.
My boys slept until 8:00 am and came in to my room and Oliver said, "Wake up, Mom!" It's been so nice since they've both started sleeping in since we moved in April. It's been stressful for them, but they're getting more comfortable every day.
After my morning coffee and all our vitamins, we began gathering ingredients for waffles. The boys took turns stirring, cracking eggs, and pushing the timer button after each waffle finished. They love eating waffles!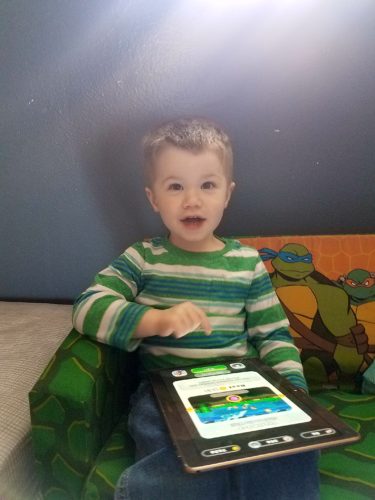 School for us is all day and every day. We have a plethora of story books, picture books, and coloring books, as well as several age appropriate games. Oliver adores playing games on our tablet; right now Super Mario Run is his favorite. I try to use every moment I can for teaching them new things in hopes of helping them to love learning without stress.

After some coloring and songs, we folded some laundry together, and Miles helped me unload and load the dishwasher while Oliver watched Super Why.
They picked up their toys, and then they watched a Preschool Prep phonics video whole I took a shower. By the time I was done, Miles was sleeping on the couch.
Our Afternoon:
Our lunch is almost always leftover from the night before. Today's menu was chicken and broccoli casserole, peaches, and yogurt. Miles will have his lunch when he wakes up.
Oliver just rests or quietly plays the tablet when his brother is sleeping, and I can get some reading done.
When Miles woke up, he ate, and then all three of is went outside to play. They love to run, jump, slide, swing, and drive their diggers around the yard. But the newest favorite thing is playing baseball. Oliver is getting pretty good at hitting the ball if I pitch it to him, and he's only 3!
Sometimes we stay outside until Daddy comes home, but today we had to come in because of the rain.
Boys were hungry for a snack so we made some button sugar cookies, and they helped decorate.
They did some playing with their hot wheels and dinosaurs and I started supper.
Our Evening:
It started with chicken teriyaki. A nice soy sauce, some brown sugar, ginger, garlic, oil, spicy Sriracha, and corn starch. Kyle and I love Asian food; the boys, not so much. I always make plain noodles for them when I cook Chinese because I know they won't eat anything if I don't! Their noodles have a butter and parmigiano sauce with salt and pepper. They devour them every time, and tonight was no different.
Kyle got home just in time for supper. This is my favorite time of day. We're all eating together and talking, watching the boys and their silly antics, and making plans for the rest of the night and the weekend. It's a noisy time, but peaceful at the same time.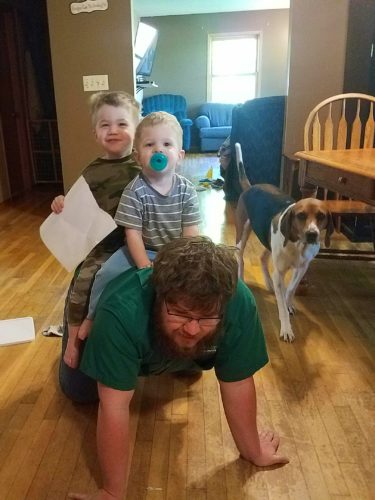 After dinner, Kyle and I drove the boys and Buster to the park for some more family time, and then Dairy Queen for some desert.
Once home, we got pajamas on the kids, brushed teeth, came out to the living room, shut lights off, and wound down for bed time.
Just for Fun:
Our only scheduled activity each week is church. Since we moved in April, it took a while to find a church we felt comfortable at, but we've been twice now and the boys seem to enjoy the children's church and play time.