Hello, this is Sarah B of Dyer, Indiana! My family consists of my husband, Bradly, my daughter, Adrianna-10, and myself.
We have 3 tiger striped tabby cats – Marie, Sadie, and Bismarck (aka Bizzy).
I work at home as a medical coder and love what I do. Brad is a stay-at-home dad who helps homeschool Adrianna.
We love cats, if you couldn't tell by the number of them that are a part of our family.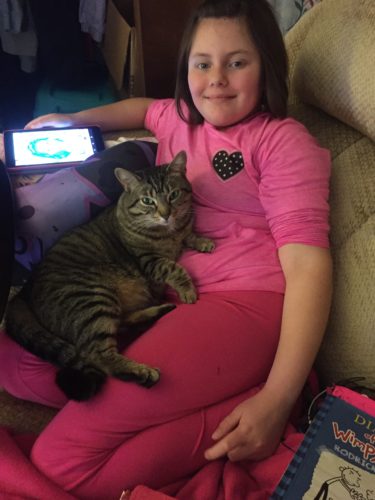 We enjoy outdoor activities, but especially swimming in our pool. Adrianna is a really good basketball player, rarely missing a shot.
Our Morning:
Started my work day in my home office at 7:30 am after rolling out of bed at 7:00. It's quite the walk to my office. 🙂 Adrianna was already up watching George Lopez.
I took a quick break around 10:00 am to check the pool levels to make sure I didn't need to add chlorine or adjust the ph levels.
Even though it's summer break, Brad spent some time working on the Math 4 with Adrianna doing some review since she struggles in that subject. The 2017-2018 school year we'll be combining Abeka with Timberdoodle for homeschooling. Timberdoodle's math curriculum works really well for Adrianna.
Our Afternoon:
For lunch I had half a ham and cheddar sandwich on a pretzel roll from a local grocery deli. It was delicious! Lightly salted popcorn went well with my sandwich. I finished it off with some chocolate pudding.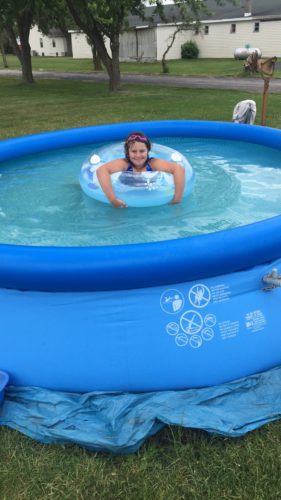 Adrianna and Brad are out swimming in the pool on this beautiful sunny first day of summer while I finish up my work for the day.
Our Evening:
The day will be complete with beefy enchiladas for dinner made by Brad and myself, a walk in the sunset, and Netflix.
The day has been a beautiful one with sun and 70s for the first day of summer.
Just for Fun:
Since we are newer to homeschooling, we haven't incorporated organized sports or activities, but the half year that we have homeschooled we spent time outdoors with Adrianna walking, playing baseball and basketball, tennis, and swimming. On rainy days Adrianna plays the Wii Fit for physical activity.