Hello, my name is Kimberly. I am a homeschool mom. I have nine kids (three live with Jesus). My son graduated college and is in graduate school. I have three daughters in college. I am homeschooling two daughters currently.
We live in Michigan and love to go to the beach.
We also have a five-month-old puppy that makes everyday more fun.
Our Morning:
We are on summer vacation right now so our day consists of swimming, playing and walking the dog.
On a normal school day we begin school at 9:30 am. This works well for us because well-rested kids and mom make for a more efficient school day.
Breakfast ranges from bagels to cereal.
We have a trail at the end of our road that leads to the park and library. We love to go for walks, especially to the library book store.
Curriculum I use is varied per child. I start with the curriculum kits prepared by Timberdoodle and tweak them according to what works best for each child. I also use Abeka, Hooked on Phonics, Sing Spell, Saxon and Pearson Learning to name a few.
As for chores, they are always a challenge. We don't have a set chore schedule. Everyone helps out and we try and keep up.
Our Afternoon:
Lunch is our main meal, we usually make it together and this is our sit-down meal. Because of soccer, dance and piano lessons in the evenings it is rare we can sit and enjoy supper together.
We have set school hours from 9:30 -2:00 each weekday.
This past year my son was struggling health wise and was hospitalized so it made school interesting. We took school with us to doctor and lab visits. One benefit of homeschooling is you learn to work with distraction.
We finished our curriculum a couple of weeks later than planned. However, the lessons learned taking care of big brother were lessons you cannot get in a text book.
Our Evening:
Evenings are filled with soccer, dance, youth group and piano.
Supper is a challenge. Usually it's a packed sandwich or leftovers. Making sure everyone is fed is a big challenge each day.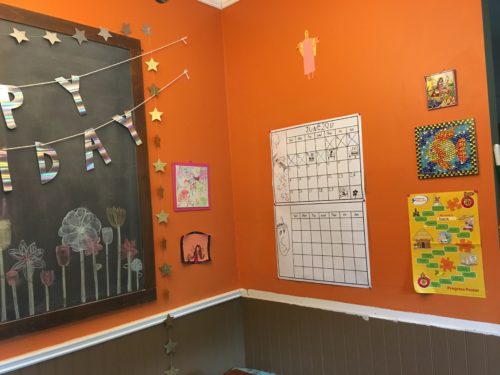 Just for Fun:
I sent pictures of our school room. My daughter just had a birthday so our slate is decorated for that. I love the chalkboards. They are handy and make math a lot more fun than working everything out on paper.
Find Us on Instagram: