Hello! I'm Megan from Texas (aka Mommy). I am a homeschool mom and avid knitter. My husband (Daddy) is an operations manager, and works very hard to support our whole family and all of our endeavors. We have two children. A boy, age 4-almost-5 (Bugsy); and a girl, age 1 (Baby Lady). We also have a black lab named Indie, who is the kid's best friend. Bugsy loves playing sports, and Baby Lady loves causing trouble, haha!
Our Morning:
Today is Wednesday. Daddy wakes up at 6:00 and is at work at 7:00. Bugsy woke up just before Daddy left for work. We had a treat and had grapes and donuts for breakfast. With a side of extra coffee for Mommy.
Baby Lady woke up at 8:00, and had a donut while Mommy got a shower.
Then we finished up getting ready to leave the house for swim lessons for Bugsy. Today was the second lesson. He did great!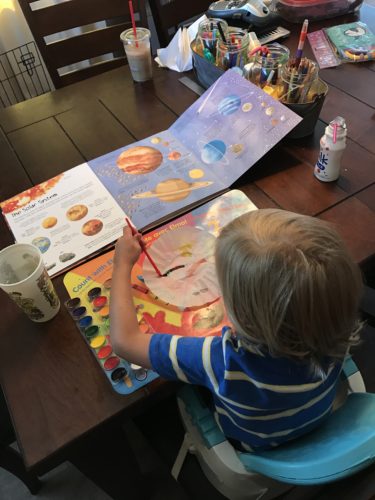 Our Afternoon:
After swim lessons we had another treat and stopped for Chick-Fil-A on the way home.
Baby Lady took a nap. Bugsy and I continued work on an important project he's started up. He decided he needed a space room. So (using the Usborne Big Book of Stars and Planets as our guide) we painted a few more planets for his bedroom walls.
Then we did some laundry. Everyone helps. Bugsy moves things from washer to dryer, and puts things away, Baby Lady enjoys throwing clean laundry on the floor, and Mommy does the folding.
Then it's another nap for Baby Lady. Mommy knits, while Bugsy plays with Tegu blocks and cars. He also is filling out this survey himself.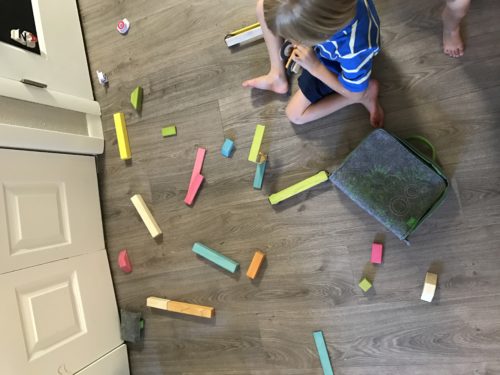 Our Evening:
When Daddy gets home from work we have pasta, mixed Italian style vegetables, and garlic bread for dinner. Usually eating dinner takes up a lot of our evening. We sit and talk for most of it.
Daddy is in school getting a Bachelor's degree, so some of the evening is devoted to his schoolwork while the kids and Mommy play quietly or read together.
Then it's the beginning of the bedtime routine. Baby Lady starts at 7:00, she gets a bath, PJs, breastfeeding and is tucked in to sleep. When she's asleep Mommy, Daddy, and Bugsy play board/card games (tonight is Uno, a lot of times it's Monopoly Jr.) until 8:00.
At 8:00 Bugsy gets a vitamin, teeth brushed, PJs, a story, and is tucked in.
Just for Fun:
Currently we have swim lessons and t-ball. With it being summer, we sort of schedule around these events. Everything else is free or on the fly. We do structured school work from the last week of August through the first week of May. Our school days are Monday, Wednesday, Friday. This leaves room for play dates and extracurriculars during the other four days. We also have other seasonal sports.
Our Day from Bugsy's Perspective
(This entry typed by Mommy, but worded exactly from an almost-5-year-old. All pictures in this section were taken by him. Anything in parenthesis is Mommy's addition:)
My family plays with me. I am almost 5. My family is Mommy, Daddy, ummm… my little sister, Indie (our dog).
Mommy does lots of work. She lets me make planets. Daddy hangs up my space stuff.
My little sister plays and puts stuff in her mouth (she is one) and that's all she does. Indie plays with me and he lays down.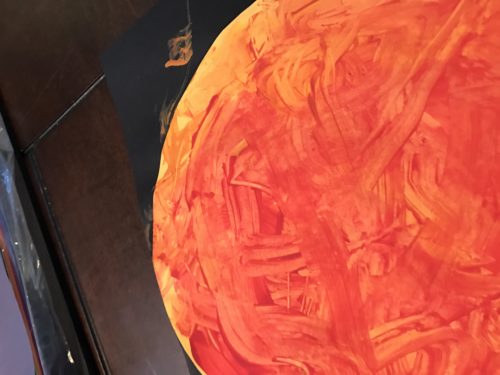 Our Morning:
Today is Wednesday. I ate a donut. I got my swimsuit on and my shirt and my flip flops. And I had swim lessons.
Our Afternoon:
Then we had Chick-Fil-A.
Then I played cars. Then I cleaned up.
Then I did (painted) planets. Then I cleaned up.
Then I played Tegu blocks.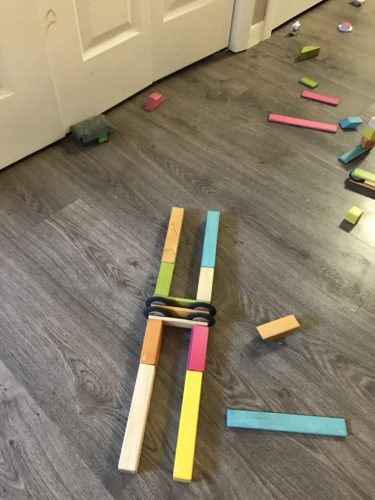 Our Evening:
After my sister sleeps we play a game.
When I go to bed we brush my teeth, then get my jammies on, then read a story, then I sleep.
Just for Fun:
I do t-ball and soccer.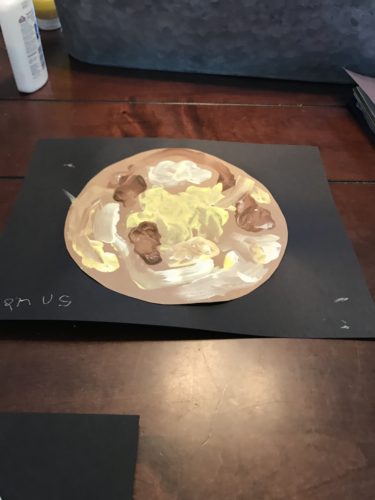 Follow Our Blog: