Hi I'm Jana and I'm a homeschooling mother of 3 wonderful girls! I am a RN who works as needed, a Girl Scout leader and jack of all trades.
My husband Will works in IT support and is what holds us girlies together as well as reminding us to slow down at times. 😉
Addison is 8 years old and going into 3rd grade. She is a very creative soul and is always thinking of something new to make or do.
Natasha is 4 years old and keeps me on my toes with all of her questions about whatever pops into her mind. She loves showing animals at fair for 4-H with her big sister and taking care of her bunny Marshmallow.
Alexandra is 2 years old and she will not let you forget her by any means. She feels just as big as the other girls, but she's Mommy's little shadow. She expects to do homework if they are. She loves the dry erase board, baby dolls, and Play-Doh.
We love gardening, fishing, and crafts almost as much as we love movie and game nights.
Our Morning:
We usually wake up around 8:30 am and get ready for the day. Once Addison is ready she goes to the kitchen and starts making breakfast, which was raisin toast and bananas this morning, and setting the table. When the rest of us catch up to her we feed the rabbits, wash our hands, and eat breakfast.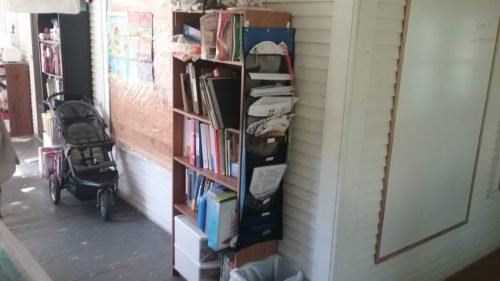 While the kids finish and clean up the table I go out to our classroom on the front porch and start writing the assignments for today on our dry erase board. Addison comes out when she is done and writes the date, month, season on the board and reviews this/sings the days of the week and months of the year songs until I am ready.
By now all 3 are sitting and ready. I go over assignments and any special instructions and we start our day.
Alexandra likes to start with her rice sensory box or Play-Doh. Natasha starts on her tablet completing her ixl.com assignments for pre-k/kindergarten and Addison starts on her piano practice.
We started homeschooling a little over a year ago and it took us about 6 months to find our groove and adapt our curriculum. The girls love The Story of the World chapters and frequently refer to them or the accompanying activities. We use Houghton Mifflin Spelling and Vocabulary workbooks, Kumon cursive workbooks as well as our Timberdoodle kits.
We do not follow a rigid routine as you can imagine with a 2- and 4-year-old. When they start losing their tempers, fighting or if they are having a particularly hard time and need a break it is simply recess time.
We do 30-45 minute recesses 2-4 times a day. Chores are assigned as well as given for bad behavior and done as they have time.
If we have appointments or want to go to the park we just take our tablets or reading with us!
Our Afternoon:
We had a picnic lunch and played outside.
The girls played in our little pool while I hung laundry on the line and assessed our progress so far with assignments.
Then Alexandra takes a nap, Natasha plays with her bunny, and Addison reads or finishes her ixl.com assignments.
If we decide to go anywhere we take our work with us.
Right now we are working hard on projects for county fair so we picked out our recipes Addison and I would like to make while Natasha finished some Clover kids projects.
Our Evening:
We usually talk about the supper menu throughout the day and then the kids start putting away their work and helping around 4:30.
We feed the rabbits and sit down as a family.
We had meatloaf and roast potatoes tonight.
It seems like our list is never-ending but they got almost all of their assignments done which is a big deal with a 2-, 4-, and 8-year-old so I am happy with our work and blessed to be able to spend my time with these beauties.
We usually end our day all piled into mom and dads bed to talk about what we did today, what the plan is for tomorrow and stories!
Just for Fun:
I am a Girl Scout leader and my husband helps volunteer for the bi-weekly meetings.
We are very proud 4-H members and our group meets more often right now as we are getting ready for fair so we have horse practice 1-2 times weekly and cattle practice 2-3 times weekly as well as bunny practice nightly.
Addison has piano lessons weekly. She is also in the summer play for children and will be practicing daily for that. She is signed up for 4-H 2-day camp and Girl Scouts 2-day camp this summer.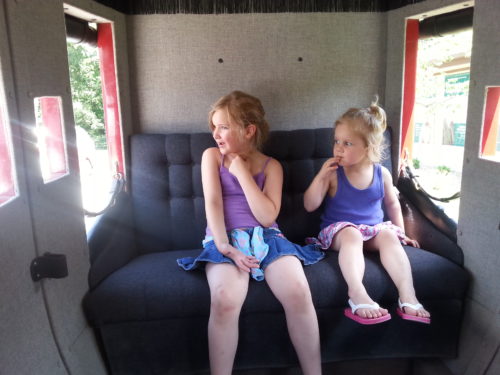 We enjoy getting together with friends, family and other homeschool families as often as we can. We do go on more field trips during the summer to museums, zoos, and the waterpark.
Swimming lessons are taught by Daddy on Saturdays while they are waiting for siblings to finish gymnastics.
Find Us on Facebook:
WilliamandJanaMullins