Hello! My name is Ange and I am a stay-at-home homeschooling mom.
My husband Phil is an electrical engineer.
Our sons are Andy, age 15, and Nick, age 13.
Grandpa, my dad, also lives with us.
Andy spends most of his free time writing and drawing his own comic strip.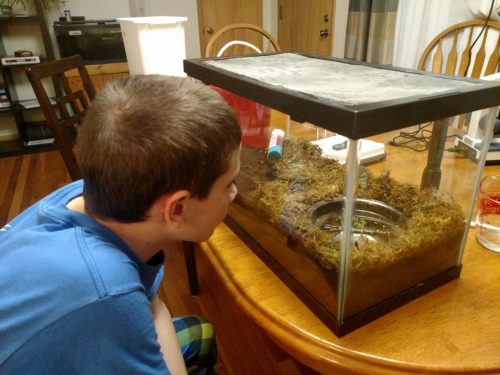 Nick wants to be a zoo keeper and we are well on our way to having our own zoo. We have 2 dogs, a rabbit, a salamander, a flying gecko, a frog, a tub of tadpoles, a salt water aquarium and a fresh water aquarium. Nick is saving money to add a chameleon to the zoo soon.
We love to travel as much as we can.
Our Morning:
It's Tuesday morning, the second day of our new school year. We decided to try year round schooling this year with short breaks more often instead of a long summer break.

The boys start their day with personal Bible reading when they get up. We don't have a set wake up time. It is usually between 8:00 and 9:00 am.
When they finish reading they get their own breakfast most days. Usually cold cereal. Once or twice a week I make something like pancakes or french toast.
After breakfast the boys shot baskets in the driveway basketball hoop for about half an hour.
At 10:30 am I asked them to put away the basketballs and join me in the back yard for Biology lab. We are using Friendly Biology this year. The boys use the same curriculum for everything except math. They planted potatoes that we will study as they grow.

It's June in Iowa and was very hot and humid by the time we went in so we took a Gatorade break before heading to our basement school room. It felt good to relax in the cool basement and listen to the What In The World CD for our history class using Diana Waring's History Revealed: Romans, Reformers, Revolutionaries. We also listened to a chapter of For the Temple by G. A. Henty on Audible. The boys can color or do Extreme Dot-to-Dot while listening.
Our Afternoon:
Lunch time comes about 1:00 pm. Nick had a peanut butter and Nutella sandwich (his favorite food). Andy and I had leftover enchiladas from the night before.
After lunch we headed to the bowling alley. We really enjoy the Kids Bowl Free program every summer. Grandpa came bowling with us.
When we got home from bowling, about 4:00 pm, we worked on an Analytical Grammar assignment together.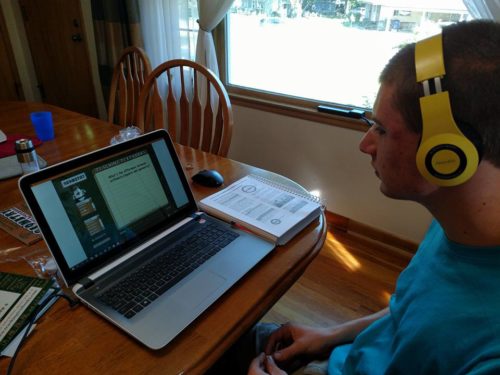 After that the boys went to computers to do a lesson of Teaching Textbooks math. Andy is doing Geometry this year and Nick is doing Pre Algebra.
Our Evening:
I made Pad Thai noodles and veggies for Grandpa about 6:00 pm. He left for a Bible study at church.
I then used the same noodles and veggies in a Thai red curry soup for the rest of us. Dad got home from work about 6:45 and we ate supper.
It was movie night. We watched The Princess Bride. We have seen the movie many times, but recently read the book so this watching involved lots of comparing and contrasting between the movie and the book. This is one of the very rare times we liked a movie better than the book it is based on.
We enjoyed a scoop of ice cream after the movie.
Then feed all the critters and got ready for bed. We end our day with family worship in the boys' attic bedroom.
Just for Fun:
We attend a church Bible study every Wednesday evening so we try to get our school work done a little earlier that day than others.
The boys belong to Pathfinders, a church based scouting type program. Sometimes we work requirements for that into our school curriculum. Mom and Dad are the directors of the club so sometimes planning and preparing for activities can impact our school time.
Andy is in the Teen Leadership Training program.