Hi, We're the Low family – 2 girls in Preschool and K1. Originally from Singapore, we moved to Hong Kong on account of my husband's work in Sports Media.
Sydney is our older daughter in Preschool and Kennedy is the toddler and baby of the family.
Sydney is really precocious, she started reading and doing simple subtractions at 2.5 years old without formal lessons. It came to a surprise to us when we went to visit family on a long holiday. Since then, I've been trying to keep up with her.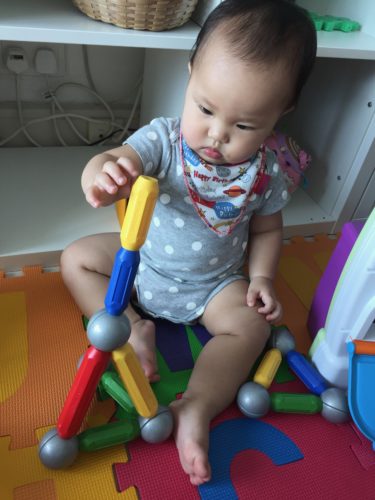 Kennedy is the 1.5 year old toddler who thinks she is her older sister's equal in everything and always wants to join in.
We are a game-playing family so I'm always trying to coach the girls to be able to join us!
Our Morning:
We don't 'school'… we learn throughout the day. This means it's actually the very first thing the toddler and I do when we start our day as she always wants her head in a book. So we snuggle together and read a few books in bed before getting her ready for the day. When it's my turn to get ready, she's usually on my bed fiddling around with a puzzle and Daddy gets the older one. This is precious time since he is obviously mostly at work. I try not to intervene then. After that, we switch up.
Dad gets ready and Sydney works on a thinking activity, like Purpllinkr, on the bed. I go to the girls' bedroom and tidy up while Kennedy pulls more books off the shelf for me to read.
Finally, we gather together for breakfast and our day is only just beginning!
After breakfast, Kennedy plays in the bedroom independently for 30 minutes while we are outside learning. This is when we usually pull out BambinoLuk to start the gears and then move on to other hands-on work/games to scaffold her learning, like Tiny Polka Dot or the Math-U-See rods.
When we are done, the girls get about an hour's free play together with either one of them dragging books to my feet to read to them.
Then it's time for the toddler's cat nap and this is when we get to do some messy play with our Mad Mattr or Playfoam, or do an art activity.
When the toddler gets up, both girls get to play with Tiggly or Square Panda on the iPad for 10-15 minutes before Sydney gets to play independently in her room while I spend time with Kennedy. Then Kennedy and I play with our SmartMax or Hexacus blocks, read more books (usually begging me at this time to do one of the First Things to Spot books). When this is all done, I prep for lunch and we eat!
Our Afternoon:
Today we had spaghetti bolognese for lunch. It's a sure fire food that I know I don't have to fight the girls to eat. While they are finishing up with fruit, I read to them a few selections from the What Your Preschooler Needs to Know since I have their rapt attention.
Then I send them off to play while I clean up but again dragged back to read more books (notice a trend?) to them.
Around 2:00 pm, we all take a break. The girls nap and I try to squeeze in a quick 30 minute workout. I put together dinner, read emails, catch up on Facebook or plan what we are going to do toward the evening.
Sydney gets up from nap 30-45 minutes before the toddler so we have that time usually to work on Mathematical Reasoning, The Reading Lesson or Thinking Skills book. Today she sped through 15 pages of Math until I had to stop her to get the toddler up from nap!
Once up, we all schlepp to the playground and burn off some energy for an hour or so. Today, I met up with my ex-colleague who has a 6-month-old so the kids all kinda played together.
Then we gather back home and they all played some more while I put dinner together. Other days I'll put on some TV in the second language they are learning.
Our Evening:
Dinner cannot come soon enough because it means Daddy is about to walk through the door. The girls adore him and it means I get to focus elsewhere for a little bit. If I'm quick, I get to jump in the shower right before dinner. For some reason this is when the girls start being silly with each other. At this stage, its still endearing and funny to watch so I hold my tongue as long as they are eating well. Usually they do and then we do baths while one of us cleans up.
This is Daddy time territory so I try to butt out. But today I promised Sydney we'd play a round of dominoes after bath so that's what we did! And the toddler pulls out all the books, this time for Daddy to read!
I say a quick good night to Sydney and put the toddler to bed while Daddy puts Sydney to bed. Their bedtime is l-o-n-g! But by that time, I've already checked out…..
Just for Fun:
Sydney does 2 days of Mandarin co-op in the morning. This allows me to spend more focused time with the toddler and we are usually outside more since she is all about gross motor activities… (and books….)
Both girls have swimming lessons on the weekend and look forward to Sunday school
Follow Us on Instagram: