Hi! I'm Josie and I'm mom to Samuel (5) and Ellie (1). I am new to homeschooling as the parent (my son is going in to kindergarten this fall); but both my husband, Jed, and I are homeschool grads. We are both so grateful for the opportunities we gained from our schooling experiences, both personally and professionally–and we are hoping to share similar opportunities with our kids.
Jed works in bank finance, and I am currently in an online BSN program (so I'm still a homeschooler!). Samuel is an avid early reader, and loves swimming, Legos, and drawing.
Ellie is an avid walker and climber, and wants desperately to be able to do anything her brother does.
We have two dogs, an outdoor cat, a wonderful, supportive extended family, and we love to play board games.
Our Morning:
Today is a pretty normal Wednesday. Jed usually heads out of the house right around the time the rest of us are rolling out of bed in a snuggly, story-telling fashion.
We usually start out with some yogurt and fruit, prayer together, and drawing time. Then we launch into school.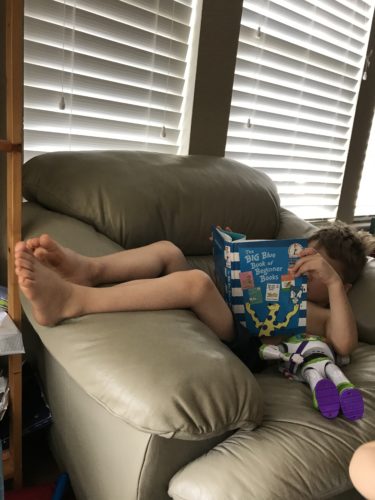 At the moment, we're using Sylvan summer supplement workbooks for writing and math, but we also like to play the Pete the Cat Cool Cat game and simple dictation from readings (right now we're reading aloud the Magic Treehouse series by Mary Pope Osborn). During this time, Ellie generally nurses and then plays with HABA blocks or Miffy Hide and Seek or similar.
As a break, Samuel will often play Legos or Picasso Tiles or MiniLuk. While he's doing this, I usually work on dishes and laundry.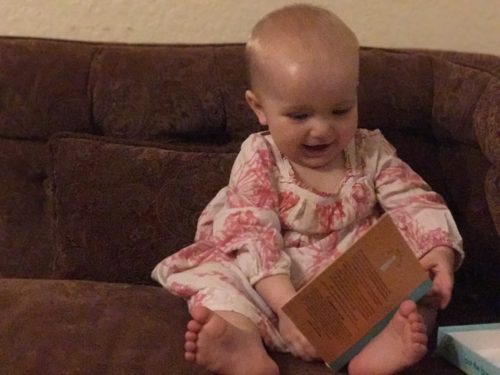 Our Afternoon:
We often go to my mom's house for lunch. My parents live about a mile away and are such a great resource to us.
The afternoon is my time for my school work.
If my folks are home, they often hang out with the kids, occasionally watching Magic School Bus, visiting the grocery store, or just reading and playing.
Our Evening:
When Jed comes home, we often have some variation of chicken and rice and salad or similar for dinner.
We pray together. We talk about Jesus. We hug and snuggle. We then take showers and start the marathon to bedtime;-)
Just for Fun:
Swimming, ballet, and church. We also love to take walks and frequent local libraries and bookstores. We also love to cook together.