Hi! My name is Brigitte and I am the G-Ma to Silas, age 4.  Silas' Mommy and Daddy both work full-time jobs. Silas gets dropped off at my house in the morning. He always comes in with a smile and is anxious to get the day started. Silas likes to build things, loves to go on field trips and swimming. 
Our Morning:
Our morning always starts with a "Good Morning, G-Ma." This morning Silas ate breakfast and was then anxious to get started with Science.
We are using Timberdoodle's Pre-K curriculum this year. Silas finished up the Preschool and is now on Week 3 of the Pre-K.
This morning's Science activity was sorting/classifying. He did as much as he could but got stuck on 2 objects. He put those to the side til his Mommy came for lunch. We then continued on with the rest of his curriculum for the day.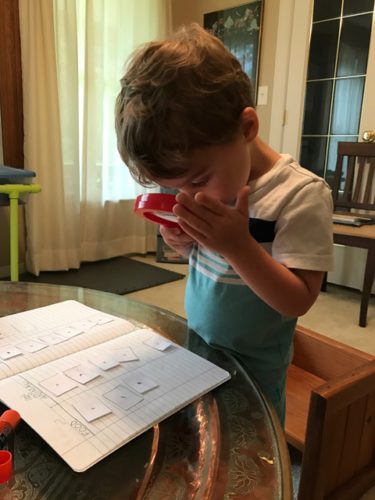 Our Afternoon:
At lunch time, Silas' Mommy came to eat with him. She first looked at his work and helped him finish identifying and sorting the last two pieces for his Science work. He loves showing her and working with her at lunch time. They then ate lunch together.
After his Mommy went back to work, Silas then took his nap.
Our Evening:
Silas went home and G-Ma is now relaxing with a cup of tea.
Silas will get home and tell his Daddy everything he did today and will probably sing him a song. He likes to sing the songs that we learned during the day.
Just for Fun:
We are part of a community of homeschoolers that get together at least once a week to do different activities. Everything from hiking, to going to museums, to visiting farms, etc. The kids really like it.
We live in Williamsburg, Virginia and so we are surrounded by lots of history with lots of different activities for the children. Normally the events are in the afternoon so we are able to get our schooling done in the morning.