We've got Dad, who fixes office machines anywhere from Canada to Wyoming.
Then Mom, who is happiest drinking coffee and having everyone either napping or working in the dining room which is our school room and rarely used to actually eat in.
Snickerdoodle is the first born and is almost 3. She enjoys gymnastics, tea parties, and playing in the sprinklers.
HoneyBunch is the baby at 15 months old. She enjoys sitting on her sister's toys, water in any form, and eating.
Hiding under the table can be found Rowdy, our border collie mix who is happy for messy eaters and playing tag.
Our Morning:
Mornings almost always start the same. Snickerdoodle has climbed into bed with Mom and Dad at some point during the night and whispers "Mom, is it breakfast yet?" We try to stay in bed until 7:00, but that doesn't always work.
Breakfast is yogurt and muffins or waffles for the kids. Mom has coffee and more coffee. Dad and HoneyBunch get up by 7:30.
Most mornings, Mom starts the laundry and dishwasher while the kids eat and play, then we get ready for the day.
We aim for school time from 9:00-10:00. This week, our school time has been used on swimming lessons.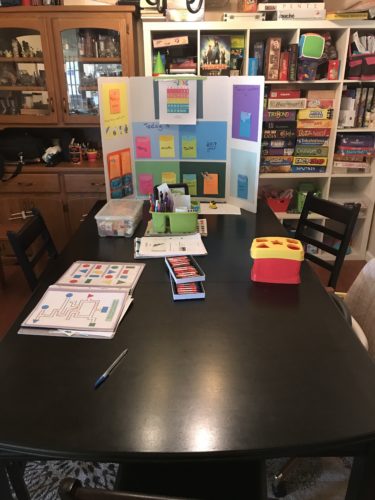 Snickerdoodle uses a modified Timberdoodle preschool curriculum. We use some printables from 3dinosaurs for our monthly theme items: puzzles, pre-writing, and some alphabet pages. We also have some workbooks left over from Mom's old job as a teacher, so we use those too!
Our Afternoon:
Lunch is simple, our favorite is cheesy spinach eggs and toast!
Nap time comes after lunch, so no work.
Mom finishes up any chores while the kids sleep, or has a well deserved rest.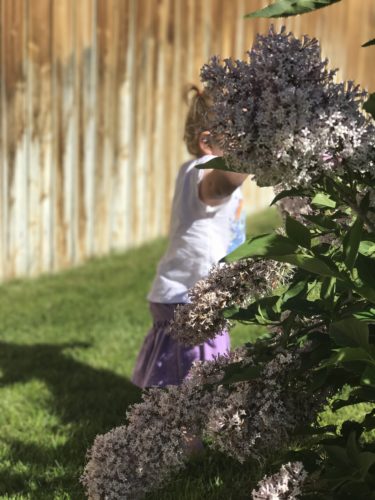 After nap, before dinner, we try to have outside time. Snickerdoodle has a new plant to take care of with Dad's help and HoneyBunch gets water table time.
Our Evening:
For dinner, Mom likes to test out her cooking class homework, but is also happy with homemade pizza!
After dinner, we play and watch TV until bedtime.
Just for Fun:
Snickerdoodle does gymnastics once a week.
We spent two weeks this summer doing swim lessons which meant very little work got done. We can only do one thing per morning.