Hi! My name is Crystal. I am a homeschooling mom to twin boys and homeschool a friend's daughter as well. We are currently doing the preschool curriculum.
Xavier and Xander are both 3.5 and Rennie is our friend who is almost 3.
We have 2 dogs we love so much. One is a chiweenie named Chica who thinks she's a pitbull, and we have pitbull named Chase who thinks he's a chiweenie.
My husband Jason works overnights at a steel mill so we try to spend as much time with him as we can when he's off on the weekends.
Our Morning:
Today we slept in until 10:00 am. Then the kiddos had Trix for breakfast and Mommy had Frosted Flakes.
We started our school at 10:30 using Timberdoodle and some outside learn-to-read books.
We then went on a field trip to the park since we are expecting a tropical storm tonight followed by nasty weather for the next week or so. We had so much fun learning about David Burnett at the park.
We haven't gotten around to chores yet but usually it's a battle to get twin boys to help clean. LOL.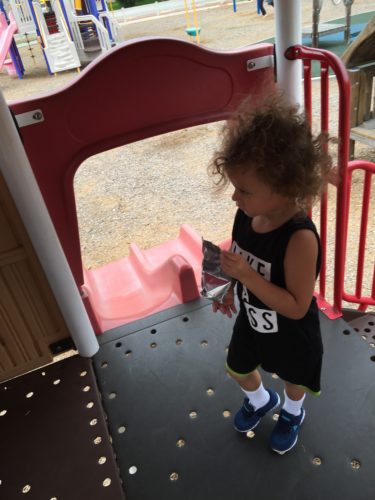 Our Afternoon:
For lunch we went to Casa Ole to eat after the park.
Now we are coloring pictures for Daddy to take to work and decorate his work-space.
Gammy is here helping keep our minds off the tropical storm coming. Later we are going to learn about storms and how they effect us.
Our Evening:
For dinner tonight we are going to cook Hamburger Helper and make a salad. The boys are going to help Mommy cook, learning to pour the ingredients in and stir.
We will watch a movie later to wind down and get ready for bed.
At bedtime we are going to read our personalized story book.
Just for Fun:
We belong to a group of homeschoolers in our area. We like to meet up at the zoo or parks or museums for some interaction with other kiddos.
Xander also has occupational therapy, physical therapy, and speech therapy every week which makes a schedule very important. On days we don't have therapy, like today, we like to sleep in and stretch school out taking lots of breaks for fun.