Hi! I'm Janna, homeschooling mom of a rowdy (nearly) 9-year-old (4th grade), a spunky 6-year-old (1st grade) and a feisty 18-month-old who adds spark and sizzle to our days. Their names are Rylan, Ruby and Caleb. Their dad, Brenton, is a construction foreman, mason and all-around craftsman and super-talented, hardworking man.
I work part time typing medical records and I love to read, garden and craft in my spare time (so, not a lot).
Rylan loves all things Lego and Nerf.
Ruby is an aspiring cook and scientist who loves the Pioneer Woman.
And Caleb like to chew on things and play outside, preferably in the mud.
We live on a small farm in northeast Georgia with our cat, Duchess, 2 blue heelers, Oscar and Buster, and a small herd of cows and hopefully some goats soon.
Our Morning:
A typical school day starts out pretty laid back for us. The hubs and I are up early, around 6:00, to get ready for the day.
The kids typically make an appearance around 7:30 or 8:00. After a thunderous entrance followed by a few laps around the kitchen/living area, they settle in to breakfast, usually cereal. Yep, Supermom right here.
We try to get start on our studies between 8:30 and 9:00 and go hard at it until about noon with a little break for a snack.
We have been using Timberdoodle curriculum kits for the past 4 years and are really happy with the ways things have worked out. Many of Rylan's studies are now independent, leaving more time to work with Ruby. However, we still do science and history together.
Our Afternoon:
Lunch is usually a simple affair for us with sandwiches, a wrap or quesadillas and some fruit, maybe some yogurt. Right now, we finish off with a Popsicle because it's hot in Georgia, y'all!
In the afternoons, the kids work on critical thinking skills, handwriting, writing practice and reading and finish anything they didn't finish in the morning.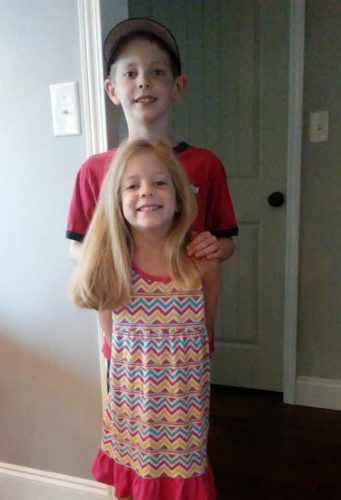 Rylan's been practicing building paper airplanes lately and Ruby likes to paint or draw sometimes. They're also allowed some TV time while Mom gets a little work done and Caleb takes a nap (whew!).
Of course there are snacks and sometimes play time outside with a friend who lives next door.
We also squeeze in some chore time, feeding pets, taking out trash and unloading the dishwasher.
Our Evening:
Tonight is a Wednesday, so we usually pop a frozen pizza in the oven for supper before we head out to church. It's a nice break for Mom in the middle of the week. 😉
Most days, after supper, we try to spend some time outside, playing and working around the house, working in the yard or garden and hanging out. It's a high point of our day.
We also try to read a little together before bed, emphasis on "try." It doesn't always happen.
Just for Fun:
We are all involved in AWANA and love it!
We also have a great local homeschool group that plans activities throughout the year. Of course, it disrupts school but we usually manage to squeeze school in before or after field trips and when we can't, we take a well-deserved break.
This year, Rylan will be able to start 4-H which I believe he will enjoy. He also plays baseball and basketball.
Ruby is thinking about playing soccer in the fall and she also played basketball this past year.