Hi! We are Edward and Rebecca and our seven children ages 2-15.
We have a little farmhouse with a mini farm in a lovely small town.
We have lots of young artists blooming with sketches, designs and photographs filling our home. We are also readers and farmers, cooks and bakers, and athletes.
Our flock of chickens provides us with eggs and our faithful pup keeps them safe.
Our Morning:
We are a pretty laid-back family. The Daddy is up and off to work before dawn and the Mommy sees him off.
The rest wake up gradually, starting around 8:00 am. The little lady is usually up first, reading or drawing in her bed. All the boys trickle down one by one, but a whistle summons those who lay abed too long.
Big people have coffee and everyone eats, fixing either cold cereal, eggs or oatmeal.
One of the fellows wipes down the toilet, each on his day.
Once everyone is done, we read God's Word and then read history literature along with The Mystery of History, Volume 3. Next is Flying Creatures of the Fifth Day. We are in the last chapter.
The animals are let out and fed and we discovered two more young hens have begun to lay!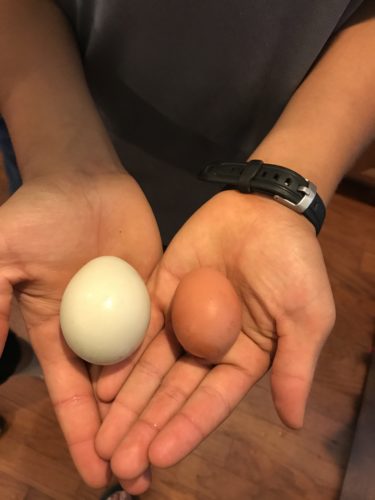 The little ones read to Mommy and sing "the Phonics Song" while bigger guys work on Math-u-See and their writing/spelling (assigned by Mommy).
Then it's time for lunch!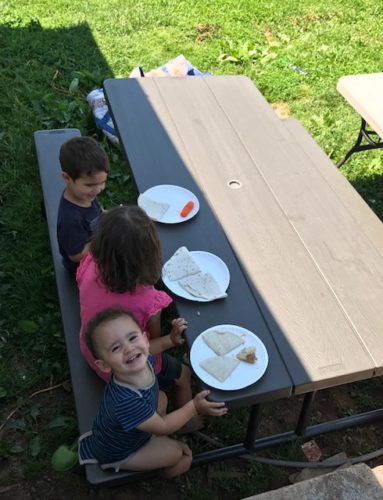 Our Afternoon:
After lunch the dishwasher is emptied by three workers, the top rack, bottom rack and silverware. Then a couple of bigger guys load, one does dishes and the other loads the silverware.
In the afternoon we watch a DVD lesson of either Physics 101, or Visual Latin. Once a week we will see a lesson of "cover Story" writing.
Meanwhile, a load or two of laundry has been completed and brought to fold.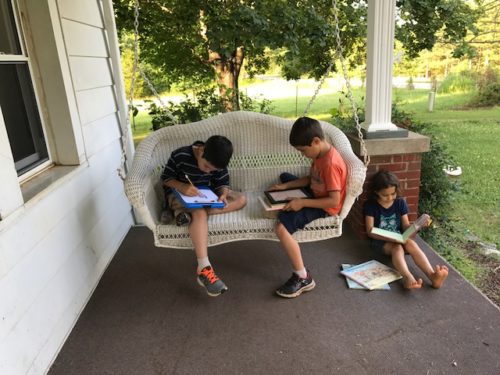 There is often time for free reading or art and play time, but today we also enjoyed a visit with our dear friend from church.
She admires drawing and injuries and the family lizard. Then she heads home to cook her dinner and we likewise start up the pots and pans.
We tidy up and sweep before the Daddy comes home.
Our Evening:
Dinner tonight is spaghetti, meat sauce and corn from our friend's garden. We usually have pasta on the second work day and Mexican on the third, but we had appointments this week that mixed us up and we swapped them for convenience.
The Daddy is as handy about the house and garage as he is at the machine shop and he and the big boys head out to repair the mower. Some volunteer and some are volun-told.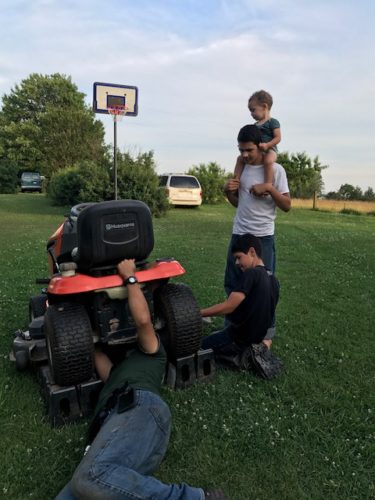 Our high points were the visit with our friend and new egg layers!
The low point would be the littlest fellow coming down with a fever.
We all listened to an Audible book, usually a car activity but the suspense was too great.
Then around 8:30, it's off to bed.
Just for Fun:
Our one routine activity outside the home is our weekly library trip. We take a list of books to look for, and some we have already reserved, and bring home our treasures, new and old favorites. We usually pick an afternoon in the second half of the week and make sure chores are done before we head out. The library is a great incentive.
Once a week, when the schedules permit, just the Mommy goes out to meet a fellow homeschool Mom for a cup of something and to catch up and encourage each other.
The children get comfortable in the living room and listen to their eldest brother read from the Chronicles of Narnia until the Mommy returns.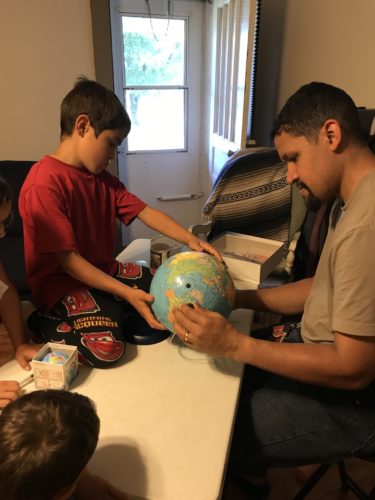 Follow Us on Instagram:
Rebeccafrancesa (Pink rose avatar)