Hey there! We are the Scott family. There are 10 kids total. Yes TEN. Two are grown and out of the house, 6 still live at home, and 2 are in Heaven.
Life is never dull around here. Daily life for us is often chaotic yet organized, messy but beautiful, exhausting yet amazing, demanding yet rewarding, ordinary yet spontaneous, hard but simple, and always loud. We live out in the country in a small Texas town on an 800 acre farm. Technically it is a ranch, but farm just sounds more like us. We have an array of animals from cows, pigs, and chickens to our boys' pet snakes, frogs and lizards. And almost as many dogs as we have kids.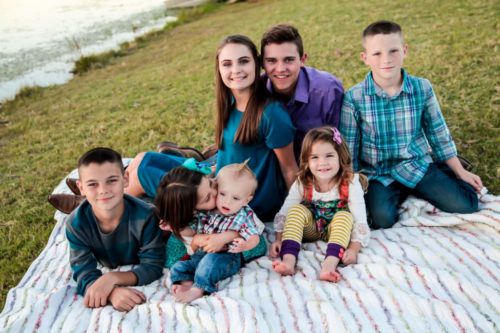 We have been homeschooling our kids for the past twelve years and absolutely love it. It is by far challenging me to my core, but so much fun to get to be their mommy and their teacher.
Our kids are the light of our lives. They are all so funny and keep us on our toes daily. Every single one of them is strong-willed and challenge us in their own ways and they each add so much joy to our lives with a uniqueness that make each of the individually special.
Our daughter, Taylor, graduated last year and is still a little undecided on a career choice. She lives about an hour away from us now. Her little brothers and sisters are always looking forward to a visit from her. She is such a big help when she is home. Taylor is the perfect girl preceding 5 younger brothers. She loves spending time outdoors – swimming at the lake and fishing. This fall Taylor is due with our first grandbaby.
Tyler is our oldest son. He is such a hard worker. He is a huge help around the farm and also works as a ranch hand at our local dairy and a nearby ranch. Baseball is his passion and he is really good! Catching is his main position, but he is also one heck of an outfielder. He would love nothing more than to continue playing baseball into collage. He will graduate in 2018 and plans to become a fireman. He is such a good kid with a heart of gold. He spends a lot of his free time hunting and fishing, but is also a very gifted photographer.
Tucker is my nature boy to the core. He doesn't just love nature, it is a part of who he is. He has such a free spirit and enjoys exploring the outdoors. Our house has become more of a zoo than a farm all thanks to our Tucker boy. He has a passion for animals and is practically a walking animal encyclopedia. Fishing is also a hobby of Tucker's – he has carried bass around since he was old enough to walk. He taught himself how to fly fish and on his free time creates his own flies. Dyslexia has challenged Tucker in struggling to read and write, but it has not slowed him down from learning. He is constantly self-teaching himself something new.
Trevor is probably my strongest-willed. He is my sweetest and meanest. He has a comeback for everything and never backs down from a fight! He is also full of compassion and adores his little brother. Trev is absolutely hilarious! You never know what is going to come out of his mouth! He is as smart as a whip, but detests schoolwork. He enjoys sports and the outdoors like his brothers and is in a fierce competition with Tucker in everything he can. Trevor is extremely ambitious and does not take loosing well. He is my gamer. He'd play video games nonstop if I would let him. But it's not just video games. He loves board games, card games, and is always up for a good Nerf or Airsoft battle. He collects coins and critters and loves music.
Taralyn Grace is the perfect mix of a tomboy and girly girl. She is the most well rounded little girl I have ever met. She can hang with her brothers stomping around the farm chasing chickens or catching frog or she can play princesses and dress up all day with her little sister. Tara loves tea parties. She is way beyond her years, and the most independent little girl you will ever meet. Tara takes her role as a big sister very seriously and is very protective of her siblings. She is full of energy and we are constantly having to remind her to talk a little softer. She's a social butterfly and does not like playing alone. She thinks she needs an outfit for every occasion and is very opinionated on her style. She is our sweet and sassy girl.
Trulee is our Hope girl. She is such a wild and free spirited little girl. She is quiet by nature, but if she's mad everyone knows it! She is pretty even tempered and extremely loving. She would sit in my lap and let me cuddle her all day and be perfectly content. She is a girly girl and loves wearing dresses – the fancier the better! She changes her outfit at least a dozen times a day. Trulee's happy pretty much anywhere. She can spend hours playing all alone or an entire day playing make-believe with her sister. She loves babies and smothers her little brother on a regular basis. She is a little mama at heart and the bravest girl I know.
Tellan is the baby of the house and definitely the boss! He rules the roost and we wouldn't have it any other way. He's a little guy with a big heart. Tellan is the most loving baby ever. He loves to love. And oh, his love is the sweetest! Tellan was diagnosed with hypotonia (low muscle tone) and works hard daily to meet goals which are typically easy or natural for the average kid. He is no average boy though – he is a fighter and overcomer. His struggle is a daily reminder that we shouldn't take anything for granted. Although, he is a big mama's boy he is crazy about his brothers and tolerates his sisters constant affection. And he is quickly becoming pretty attached to his daddy.
Truman Lee is our forever three-year-old boy. His smile will melt your heart and you will get lost in those bright blue eyes. His little giggle is one of the most joyous sounds you'd ever here. But don't let that cute little face deceive you. This little guy is full of mischief and orneriness, winning the award in the Scott house for the biggest mess maker. Painting his daddy's bass boat is in his resume of trouble-making. He idolized his daddy and brothers and loved his mama something fierce. His pitter-patter running through our wood floors is deeply missed. And his absence has made Heaven all the sweeter.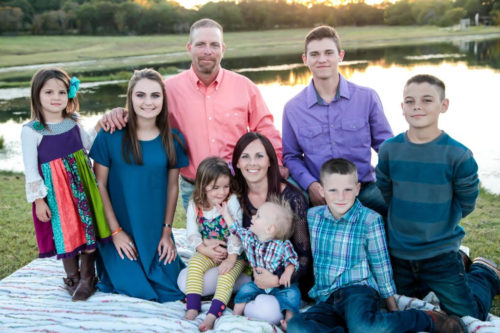 Yeas ago I would have bragged about our simple country life, homeschooling a half-dozen combination of "his," "mine" and "our" children – which we worked hard at making one solid family unit. We were far from the Brady Bunch, but we were living a life we truly loved. Then tragedy struck our family when our son, Truman, had an accident the day before our tenth wedding anniversary. We found ourselves walking through a dark valley together, living a life we did not choose. We have come to understand the true gift of the cross like never before and are all the more determined to take advantage of the precious moments we have with our children who we still get to wake up to every morning and are so thankful for the memories with have with the ones waiting for us in Heaven.
Our Morning:
Every day for us is different. We work around farming, therapy, co-ops, sports, and the list goes on because it seems like there is always something interrupting our "normal." So more than a schedule we have a routine – what I like to call our "Grace Plan." I start my day with the top 3 things I have to absolutely do (and this changes from season to season) and then we just do the next thing.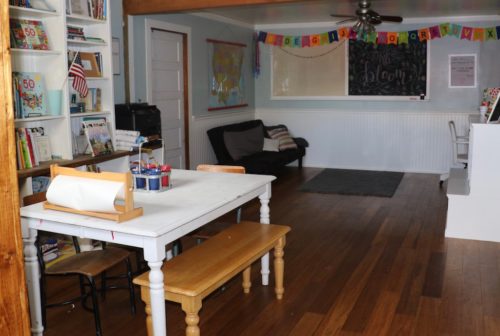 Typically we start school no later than 10:00 am. If it's any later than that we usually just wait until after lunch. Most mornings we have cold cereal (especially during the summer), but we also have a home-cooked breakfast like eggs, biscuits and gravy, pancakes, etc.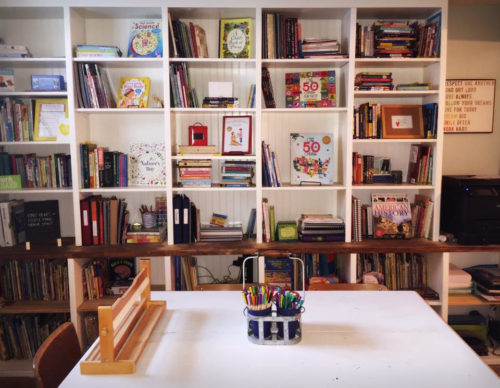 We use a variety of curriculum (Sonlight, Brave Writer, Teaching Textbooks, Elemental Science, and Timberdoodle). I love using Timberdoodle's hands-on to create a fun learning environment for the kids to explore on their own or together.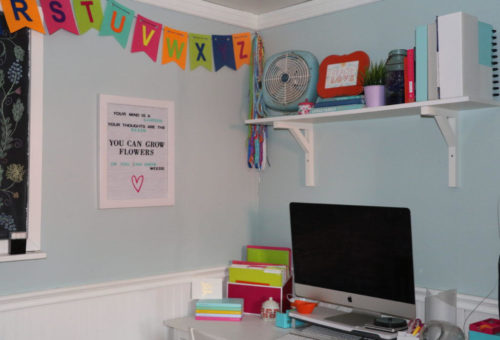 Chores are rotated monthly – each kid has 1-2 chores in each room as well as on the farm. Then we will have a family cleaning day one day a week. Chores are done in the morning and evenings. We try to instill a work-before-play motto. Once chores are done and they've had breakfast we start school.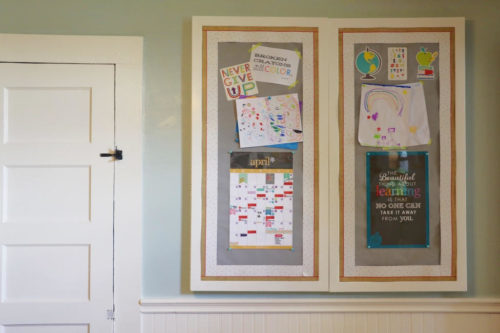 Our routine changes based on the season but this summer we start with one of my older boys doing math while the other has 1:1 time with the toddler while I do school with their little sisters. Then they switch.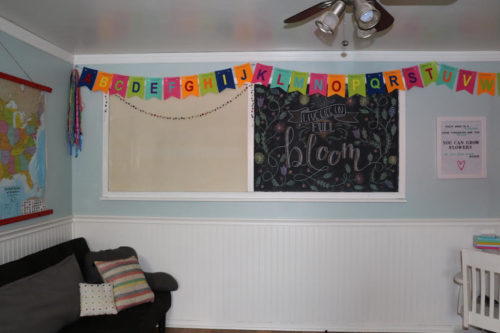 Our Afternoon:
Typically in the afternoon we do our read-aloud with a snack, followed by language arts (Brave Writer).
Then lunch. We have a very simple lunch menu and try to stick to it (sandwiches, hot dogs, salad, pasta).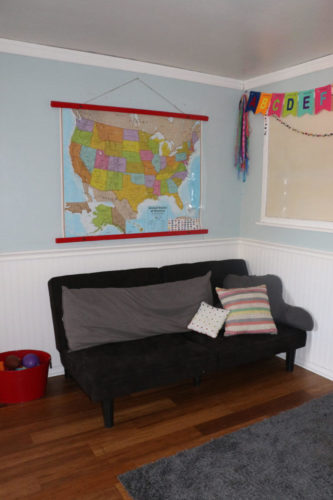 After lunch the toddler takes a nap and the little kids have a quiet time while we do a state study, followed by history and science.

Our Evening: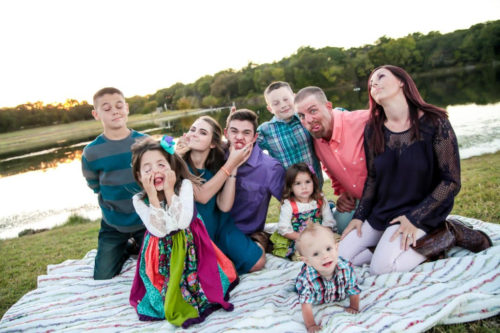 Once school is done the kids go outside to play. I try to take a break and sit outside with them for a while.
We love to go pick peaches off the peach trees and then go down to our lake.
We usually eat a pretty late dinner (7:00 – 8:00ish). During dinner we all share the best part(s) of our day.
Just for Fun: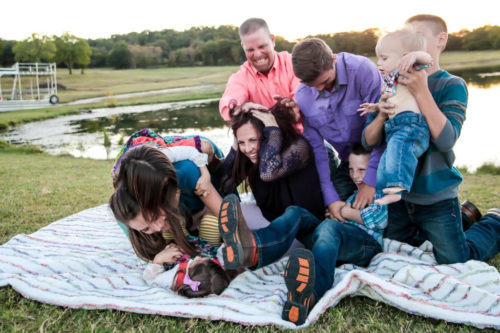 All of my boys play baseball. The younger two play for our community league but my oldest son plays for an HSAA & we absolutely love it!
I try to limit any extracurricular activities. We used to be a part of a homeschool co-op but we are not currently attending one. We try to not get sucked into "busy" so I try to limit what we commit to.
I lead a small women's Bible study group one night a week.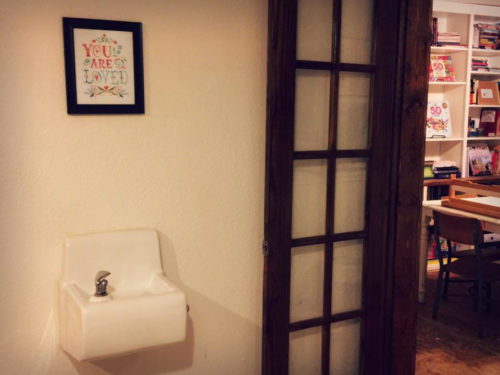 Follow Our Blog:
This is so fun and it just so happens our family recently did a Day in the Life video session with an amazing photographer.