Hi! My name is Jessica and I'm a homeschooling mom to my 8-year-old daughter. I'm also a mom, teacher and therapist to my very special 2-year-old. In my spare time, when I have any, I like to read, draw and crochet.
My husband is a musician and he loves to cook, lucky us!
Claire, my daughter, is a bug and reptile fanatic. She adores being out in nature and is always bringing home creatures.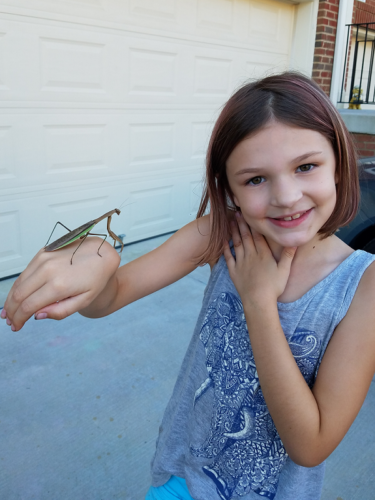 Claire's little brother Chase is a very happy, lovable guy. He currently loves trains and his shape sorter as well as trying to kiss the family cats. They usually let him, by the way.
Our Morning:
Typically our day starts off with me waking up with my son around 7:00 am. He loves oatmeal for breakfast. (I love coffee.)
Then we may work on some physical or occupational therapy.
Around 8:30 Claire wakes up and will come downstairs. After a breakfast of pancakes (her favorite), we get dressed and ready to start the morning. She also checks her chore board to complete any items that may be listed.
The best school day is Tuesday, that is poetry tea time. So out comes the teapot and the china cups and some yummy snacks. We set the table and have our tea while reading. I will read a poem out loud, then Claire reads one.
Afterwards, I'll read from whatever books we are reading aloud together while Claire draws or plays with Thinking Putty.
Then we move on to copy work and our Language Smarts workbook.
Time for a quick break to get the wiggles out and jumping on the basement sofa is ideal!
Our Afternoon:
It is close to lunchtime about now. Claire and I usually have sandwiches with fruit or chips. Chase works on his oral motor at lunch with cheese, graham cracker or soft fruits and veggies. Claire usually finishes quicker so she may complete anything left on the chore board. She likes to finish her chores quickly because then it leaves time to make slime. Trust me, she's an expert at slime making!
Afternoons for us consist of Singapore math and science. Hands-on experiments are the best. They work best in the afternoon when toddlers are napping!
Finally, a cuddle on the couch while Claire reads to me. An activity that also works best when toddlers are napping!
Our typical day ends around the same time the neighborhood kids get off the bus. So outside play until evening with friends rounds up the afternoon.
Our Evening:
Since my husband works odd hours, he is able to make dinner for us most of the time. Tonight it is chicken and veggies on the grill with baked potatoes, yum! At dinner we talk about the best and worst parts of our day.
After dinner, Claire likes to have some screen time as I get her brother ready for bed.
Snack, shower and reading in bed until you fall asleep for the rest of us.
Just for Fun:
Our homeschool activities are usually scheduled mid-day. We go to a lot of fun places to relax and socialize with other homeschoolers. We may bring a picnic lunch. On those days, we may only complete reading and math. Occasionally we sign up for a homeschool class to learn about something fun. For example we recently learned all about bees, got to see a working beehive (from afar) and made bee habitats. We even got to sample some honey.