Hi, fellow homeschoolers! I am Amanda Y. of Seattle, Washington. I am a homeschool and work-at-home mom of two. Ketcher is a 3-year-old preschooler and Kenzie is a 4-year-old kindergartener. Dad is a dentist who just went back to school for two years to study root canals. When Dad went back to school on June 19th we started our new school year too.
In the past month we moved from Colorado to Washington and the kids learned all about moving and the United States. Squeezing time for work into my busy schedule is not easy, but someone has to pay the bills!
Our Morning:
Our day starts at 7:00 am when the clock turns green. While I make the breakfast, the kids make their beds for the day. After breakfast everyone helps to wash and dry the dishes.
At 8:00 am we get dressed, start the clothes washer, and walk/feed the dog. While we walk we collect items for our seasonal shelf and talk about the weather and time of year. The kids have 20 minutes of free time until we start school at 9:00 am. This gives Mom a chance to handle any urgent work emails.
Kenzie can't wait to start "school time" everyday. She sits at the dining room table waiting eagerly for her first lesson. She has only worked from the Timberdoodle curriculum kits with a few supplemental reading lesson books. Today she really wanted to do her Math Reasoning workbook. She accomplished 20 pages (which is much higher than her usual 6-10 pages). Then we did lesson #36 from Teach Your Child to Read in 100 Easy Lessons. We practiced writing lowercase "c" and "g" and did 5 pages from Building Thinking Skills. We still incorporate Farmland Math animals every day to teach various concepts from the math and Building Thinking Skills workbooks. Today we covered above, below, behind, and beside.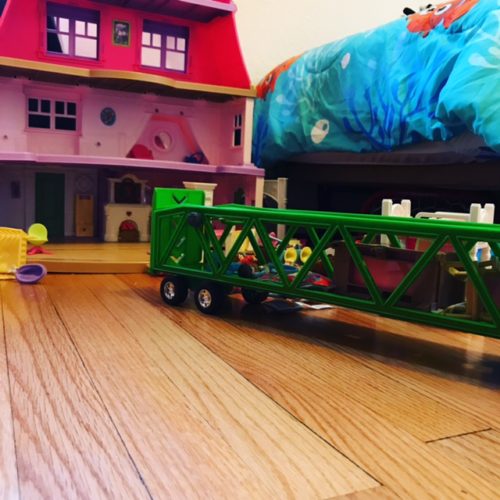 Ketcher is just starting his preschool curriculum. I am letting him dictate his school schedule since he just turned 3. While I work with his sister on Kindergarten workbooks he usually plays with his trucks. Since moving he has been playing "moving day": Loading all of his sister's doll furniture into his semi-truck and driving it away. I know he is listening to her lessons because when we covered the months of the year yesterday he remembered what she couldn't. Today he joined us for Farmland Math and we did some counting with animals. His favorite part of the morning is the 10:00 am snack.
Our Afternoon:
At noon we made some sandwich kabobs for lunch. Everyone put their own skewers together and helped clean the kitchen after lunch.
From 1:00 to 3:00 is quiet time. I work while the kids play in their rooms. Since moving to Seattle the kids are now in one bedroom so quiet time now means one kid takes some toys into our room while the other gets to play in their bedroom. Sometimes they nap, sometimes they just play. Today they napped which gave me a chance to quietly tackle a large workload.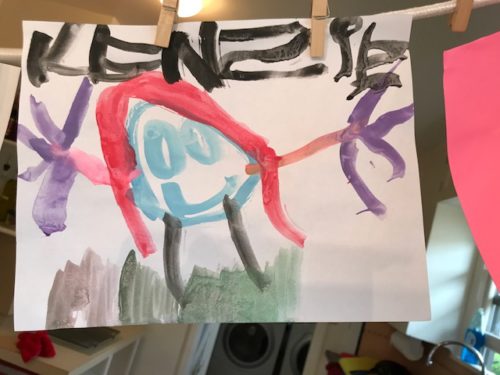 At 3:00 pm I woke them up and we had a small snack, a chocolate chip cookie and some milk. If it's nice out we head to the playground for 60-90 mins, but today it's rainy so we did arts and crafts. The kids painted with water color for a while and did some do-a-dot worksheets.
Our Evening:
Dinner time starts around 4:00 to 4:30 pm. We make sure the kitchen is clean and then all of us get to work preparing dinner. Spaghetti and meatballs were on the menu tonight. The kids love to make it a make-your-own-dinner-tray meal. The divided trays hold each item: cheese, sauce, meatball, and noodles. They can put as much or as little on their pasta as they want.
Bath is after dinner, followed by books, and bed by 7:00 pm. I work for as long as needed and then repeat it all over again tomorrow.
Since we finally got settled here, after a month of moving and travel, our days have been really nice. The kids love being on a schedule and knowing what's coming next. We always have a few meltdowns, being 3 and 4 can be so tough…
Just for Fun:
The kids both ice skate and Kenzie plays hockey. She wants to be the first woman hockey player in the NHL. The lessons are usually at night or on the weekend and it is something that Dad gets to participate in so it frees me up to do some additional work or plan for tomorrows homeschool lesson.
Find Us on Instagram: