I am Kelly of Midlothian, Virginia. I have a MSEd, and left the public school classroom when my now-11-year-old was born. I also have a 6-year-old who is medically disabled. I am homeschooling him because he is unable to leave the house as he is challenged by a rare, life threatening autoimmune disease.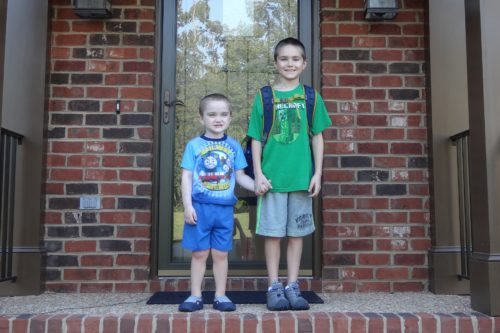 This upcoming school year, I have decided to homeschool my 6th grader. We are so excited about this adventure.
My husband is a local business owner. We give our all to enjoy each moment with our boys.
We also have two little girls… Yorkies that is- and they are the best classmates possible!
Our Morning:
My 11-year-old is age-appropriately independent. He starts his morning with breakfast, and his iPad.
My 6-year-old is 100% elemental fed through a gastrojejunostomy tube- and gets all of his formula in 20 of 24 hours each cycle. He requires a flushing of his feeding tube, and bathroom assistance. We take him to our spare room- awesome classroom.
We do a morning meeting; including calendar, weather, and thought for the day. We do a lot of singing! My 6-year-old has no oral intake- but we do a water break for him, and small snack for my 11-year-old. We work as a team to move along in our day with encouragement and perseverance.
Our Afternoon:
We work on limited physical and occupation therapy for our 6-year-old.
Our 11-year-old is part of Boy Scouts and enjoys playing short stop in baseball. We have great interest in coding and all things video games! We are never "bored." 
Our Evening:
Our evening is spent with Daddy and our entire family unit- enjoying time together and focusing on the big picture of our family dynamic. We have lows… and we have highs…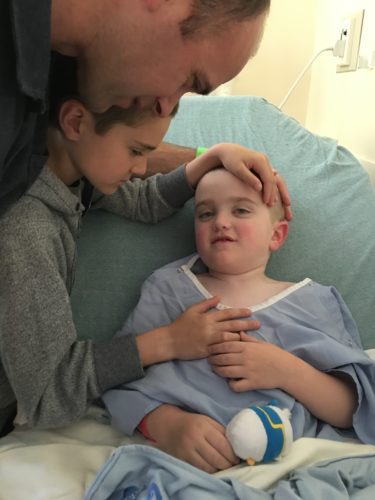 We are about to support our 6-year-old as he has his 35th surgery to date. Our lives are extremely challenging- but at the end of the day– we are there for one another… And we got this!!!
Just for Fun:
My 11-year-old is all boy… loves running, swimming, baseball, and just climbing anything!
My 6-year-old enjoys talking… a lot… haha. He is physically limited and is in his wheelchair most of the time… but he is quite the gamer- and enjoys coding and learning as much as he can about science and social studies.