Hello, my name is Amanda! I'm wife to Andrew, an engineer, and Momma to 3-year-old Elliana and 3-month-old Hanna Ivy.
We stay busy renovating our house (we're in the process of replacing siding and windows-ourselves!), looking for wildlife in the field behind our home, growing relationships with our neighbors and friends, and learning! Elliana asks me every day to "play school," which encourages me that we're onto something.
Our Morning:
It's Monday morning. We've had a full weekend, and having a routine to guide today supports our family in moving forward, when we could just lounge all day (which does happen!), becoming restless and start annoying one another.
Elliana gets up at 6:45, right after Daddy is dressed. When I'm up to nurse the baby (like last night), I need a few extra minutes to sleep in the morning, and we get up at 7:00 am. Andrew has his lunch and bag ready, and they've already started breakfast.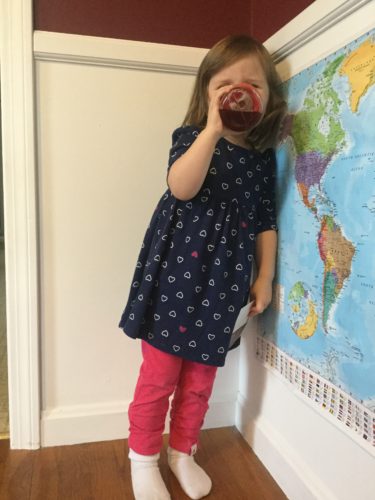 The mantra every morning from our 3-year-old, who thrives on routine, is "Cereal, juice, vitamin!" Granola, rice cereal with jam, and some dried fruit and lots of water make a quick, easy meal for us to get up and at 'em while I nurse (again).
Daddy leaves, we (so slowly!) get dressed, make beds, and after getting Hanna to sleep I run around the house getting some things checked off that mental list I've been writing. "We need to wash diapers! The floor is a mess! The sticky chairs call my name and laugh!" I call Elliana over to spray chairs with her water bottle with me and wipe them with a rag, which makes cleaning fun for us both.
Then we pull out our schedule for the day and corresponding activities. We're using My Father's World curriculum, which gives us a story from the Bible (we use the Jesus Storybook Bible). I've shifted to many activities from Timberdoodle to supplement, but appreciate the theme given in MFW. Today's story was about the Tower of Babel, and learning about different languages and cultures. We talked about how much God loves all the people He has created as we cut and glued pictures of different people from a magazine to a poster; read Snow White in French; and put together a GeoPuzzle of the world. We are also learning about shapes and the letter "C" using different manipulative from Timberdoodle.
But now Hanna is hungry and Elliana can't do more sitting, so we take a walk. Elliana learns how to make friends with neighborhood kids and adults as they join us. A summer goal we have is to meet all our neighbors!
Our Afternoon:
We spent as long as we could outside, chatting with the woman who delivers our mail and has become our friend, chatting and playing with neighbors.
It's past lunch time, so I pull out quick items- applesauce, dried kiwi, precooked sausage, spinach.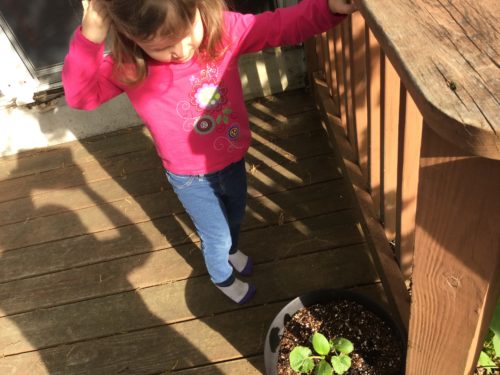 After that my mom comes by. They live a few minutes away, but were traveling over the weekend, and it's fun to catch up with her in-between Elliana's conversation and distractions.
Then it's nap time. Hanna fuels up, then sleeps soundly for a few hours; Elliana needs some time to unwind and plays in her room for about 20 minutes until I wake up and remind her to nap.
Now I get some time to be by myself. I want to read my Bible, since I didn't earlier, but I have to do so before being distracted by social media, and I'm better at this some days than others! I will probably pull out my journaling Bible and see if Elliana will help me decorate around the verse our family is memorizing, 2 Peter 1:3. The game is that whenever someone remembers, we all stop and shout the words.
Our Evening:
By the time the girls are up, it's nearly dinner time. The hardest time of the day, for sure. I try to pull out an activity for Elliana, like Floof, kinetic sand, or her "science kit," which consists of a huge dropper, some test tubes, and water I color with food coloring.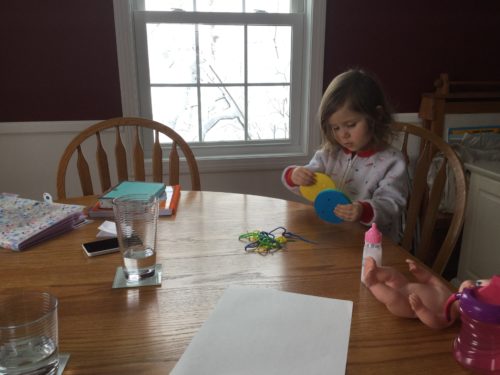 Tonight we're having hamburgers and salad.
Andrew will give hugs, change into different clothes, and work on siding for a little while before we all sit down to eat together.
Then we'll clean up, get our girls ready for sleep, and pile onto our bed to read another section of Little House in the Big Woods.
Once the girls are asleep Andrew and I usually run around a little more, preparing for the girls and me to leave early tomorrow for errands (strawberry picking!) and visiting, before getting snacks, decompressing and dreaming together, maybe watching Fixer Upper on the iPad (we don't have a TV). Moments make up our lives, and we want them to be good ones.
Just for Fun:
Elliana is just starting extracurriculars, and is thrilled to go to dance class in two weeks! We have a few groups we're part of through our church, as well.
Follow Our Blog: