Hi! My name is Marcia and I am a homeschooling mom of 4 beautiful girls: Zoe, almost 7; Olivia, almost 5; Ivy, 3; and Aryn, 15 months.
My husband Marcus and I are blessed to have a poultry farm that allows me to be home with them. He works full time at the local hospital as CT supervisor. In addition to our two chicken houses and his job at the hospital, we also have an apiary. His parents have a farm also, so if we are not chasing our chickens, chasing the kids, or checking our bees, we are on their farm helping them with any of their chores. It is a busy busy life indeed. But we wouldn't change it for anything!
Our Morning:
Today it is Monday and I started the day with a pot of coffee. Aryn was up all night sick so neither of us got any sleep. Marcus has someone out with a broken foot so he had to fill in from 7:00 pm until midnight last night and then go back in for his normal shift at 7:00 am this morning. While he gets ready for work, we chat through Aryn's cries. Her crying woke up Zoe and Ivy so we all have an early start. At least they get to see Marcus off to work. (Olivia got to stay the night with her grandparents last night. They take turns.) My plan was to make pancakes for breakfast but Aryn is miserable and only wants to snuggle. It's the only thing that comforts her right now. And that means cereal again. I can do that with only one arm. 🙂 At least the kids don't mind. They all ASK for cereal.
Since I got no sleep, it's off to check on our two chicken houses and the chickens. I really don't like taking the kiddos with me, especially with one of them sick, but everyone was up so early I didn't get to do this before they woke up and Marcus left, which is what I normally do. But the kiddos are great! They help me turn on the feed and check the water lines to make sure everything is running properly. With Aryn in her backpack carrier on my chest, they are a huge help.
After breakfast I bathe the two littlest ones while Zoe takes a math test–100%. Great job, kiddo!
Aryn is out of the bath fast. Usually this helps her feel better when she is sick, but not today. While I help the babies get dressed, Zoe does spelling.
Today is free day–my favorite day because Zoe enjoys it so much–and I always like seeing her drawings. With Ivy dressed and playing her her dolls and Aryn snuggled on my chest again, snotting all over me, Zoe and I talk about Attila the Hun in history and then we discuss the North Star and how it can be used to navigate as part of our science lesson. She doesn't seem to be paying much attention to this part so we may need to go over it again tomorrow.
Our Afternoon:
Ivy gets hungry so we stop for lunch–sandwiches and Veggie Straws, my kids favorite. While they eat, with Aryn munching away safe in her chair (and happy for the moment) I load the dishwasher and start a load of laundry. Then I make myself a nice salad and sit down while the kids have their dessert-chocolate pudding. Zoe is reading at the table again, a sight I love to see, but I know I will be cleaning pudding off that book later. Aryn is putting cheese in her hair, so I know she's done.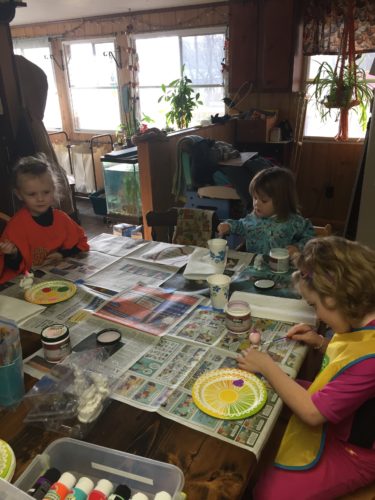 Zoe and I start Language Lessons, discussing The Three Little Kittens, identifying nouns, pronouns, and verbs in the poem, while I clean Aryn up and give her something to help her fever come down. Zoe does great so we move on to reading, her favorite part of the day. She reads while I rock Aryn, who is getting drowsy, finally. The poor girl needs some rest.
Once Aryn is snuggled in bed, I switch the laundry, unclog the toilet and clean the flooded floor. Ivy and I talk about what is appropriate to put in the potty and what is not,and then we settle on the living room floor. Zoe is reading a book at her desk while Ivy and I talk about colors and shapes. She stacks her Tobbles from big to small for me and then identifies small to big. We do puzzles, at which point Zoe joins us, helping Ivy to see which pieces have edges and which do not. I love moments like this, with big sister teaching little sister. I must be doing something right.
I have time before Marcus gets home, and I feel pretty good, so I hop on the elliptical for 30 minutes, watching both girls and listening to Aryn's monitor and K-love at the same time. After I cool down with some water Zoe and I go over her summer reading chart, marking down the books she has read.
Marcus comes home but has to leave again because our neighbor needs help baling his hay. Kiddos will have to come to work with me again this evening.
Our Evening:
After we walk the chicken houses again (my girls are AWESOME today!) Zoe takes a shower. Ivy and Aryn (she must be feeling a little bit better now) play on the floor and I start dinner.
Di and Terry (Marcus's parents) are bringing Olivia home and staying for dinner. I make meatloaf, roasted potatoes, and corn. It's a good dinner, with good conversation. Everyone talks about the long vacation weekend Di and Terry are taking in just a few days. They will be taking Zoe and Olivia with them and they are all so excited. Zoe reads us the Sunday Comics before we leave the table. Di and Terry leave after a bit of TV but the kiddos snuggle with Marcus and I until bedtime. Aryn falls asleep in my lap. She finally feels like she's cooled down. Hopefully she will get a good night's sleep and feel better tomorrow.
The other three kids go pee and brush teeth and then it's off to bed. We say prayers, give hugs and kisses, and then it's computer time for me before 30 minutes of reading before I go to sleep myself. It's been a busy day, but I feel content and happy.
Just for Fun:
Oh my goodness, we do so much! All three girls are in the church youth choir, and they love it. Practice is every Thursday evening at 6:00. Things can get hectic on those days, trying to have all the work done and have dinner before practice, but it's worth it.
Zoe is a Cloverbud in 4-H this year. She loves making the crafts and can't wait to enter them in the state fair. She absolutely loved our club's overnighter. The club got together for two days of activities, including a campfire, and slept in tents. She still sings some of the songs she learned there.
We do 5k's at least one Saturday every month, but sometimes more. Zoe and Olivia both run sometimes with Dad and sometimes with me, keeping me company while I push the double stroller with the two youngest girls. We all have fun on those days. Olivia is competitive and loves beating her sister, which she does often!
In the spring and summer things get super-busy because of our apiary. We have hive inspections to do, swarms to catch (Marcus is on our state call list to pick up swarms so they won't be exterminated) and honey to harvest. And the kids love that too. We have two juvenile bee suits for them and the three older ones argue over whose turn it is to wear it and help. They love looking inside the hives. It's wonderful. Marcus grew up on a farm and I love the values it's instilling in our children having our own.
Zoe's Day
Hi! My name is Zoe and I am 6.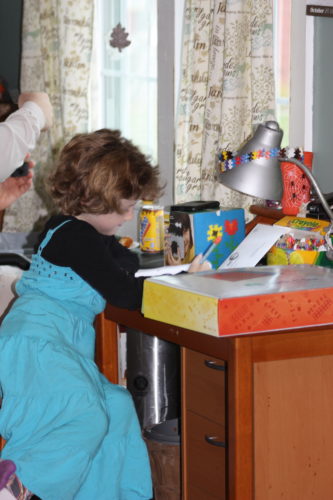 Mom cooks food that is delicious. Dad goes to the hospital during the day to work. My sister Olivia is 4. My sister Ivy is 3. My sister Aryn is 1.
Moose and Natasha are our dogs. They bark at EVERYTHING.
My grandparents are a big part of our family too. They live 15 minutes away on a poultry farm. I like helping them sometimes.
We have a chicken farm too. My grandparents have 4 chicken houses. We have 2 chicken houses. Mom takes care of them.
Our Morning:
I woke up early because Aryn was crying. She is sick today. I had cereal for breakfast. Honey Nut Cheerios is my favorite.
After breakfast I went out to help Mom in the chicken houses because Aryn is sick and she didn't get to it before I woke up. Usually she does.
After work, I took a math test and got 100%! Then I did spelling. Today was free day so I got to draw a picture. In science we talked about stars. Some are dim and some are bright. We talked about the North Star too. My favorite part of the day is reading. I love to read. Today I read Runaway Ponies and Splat the Cat Sings Flat, and then we had lunch.
Our Afternoon:
After lunch, Aryn took a nap and Mom did a workout on the elliptical. I did IQ Fit. I like IQ Fit. Ivy did a puzzle. Olivia was with Di and Terry (our grandparents). She stayed the night there.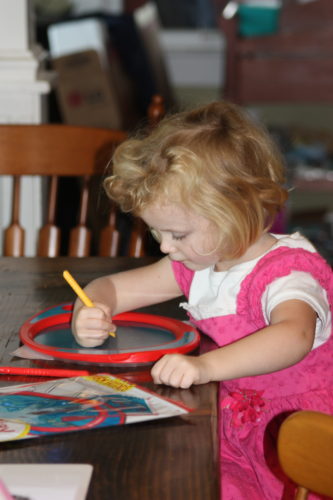 Next, Ivy and I helped Mom again with work because Dad had to bale hay with our neighbor, Grier.
Our Evening:
We had meatloaf for dinner with Di and Terry. They brought Olivia home.
After dinner we watched TV. Dad likes the science channel, but sometimes he lets us watch kids TV. I like Shimmer and Shine. We always brush our teeth before bed, and say prayers.
Just for Fun:
I am in 4-H. My favorite part this year was the club overnighter. I really liked sitting around the campfire and singing songs.
I like making crafts. I am excited for the state fair.
I am also in the church youth choir. I like to sing.