I am Rachelle of Texas.
Dad (PhD student) and Mom (part-time math teacher) take turns doing school with Abby (2.5-year-old rascal). Her cousin Aria (2-year-old sweetie) and Aria's mom (small business owner) sometimes join in as well. Our 2 dogs have eaten the girls' toys before so they are not allowed in the school room 🙂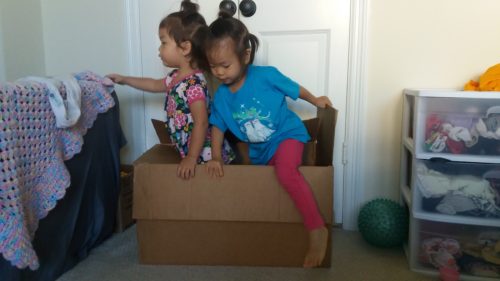 Our Morning:
On Thursdays, we all wake up at 7:00 am. Dad goes to school after walking the dogs, and Abby has Mom for the day!
Abby eats greek yogurt, avocado, bread, and sometimes fruit and cheese. Mom eats oatmeal with an egg and spinach, and empties the dishwasher.
Then we do school for about an hour (Custom Timberdoodle Preschool curriculum, with favorites from the Baby curriculum. We started at the beginning of summer but have been slowly "opening" each part one at a time since they are so much fun!
Then we go to the park playground for half an hour before Toddler Time at the library.
Our Afternoon:
Abby eats chicken, veggies, and rich for lunch, while Mom eats leftovers from dinner.
After Abby's nap, we walk the dogs together, then read books and do crafts. Abby loves the scissors.
We go to the grocery store and the dog park once a week.
Our Evening:
Dad is the best cook!
Mom does chores before dinner, bath, and bed.
We read a children's Bible to Abby before bed.
Dad walks the dogs before he goes to bed, but Mom usually falls asleep with Abby. Haha.
Just for Fun:
Other than play-dates and Sunday School and the swimming pool, Abby doesn't have any extracurricular activities. She will start one-day-a-week at Gymboree "School Skills" soon though!