Hello! We are the Kelley family. My name is Summer and I am a homeschooling Mom who works part-time as a journalist with our local newspaper.
Mr. Kelley is a Paramedic who is on duty today and recently finished teaching an EMS class that included our oldest son William who is now a certified EMT.
William and Thomas, who is 15, share their birthday today, but are five years apart!
Katie is going to be 17 in a couple of weeks and was homeschooled a few years ago but has returned to public school where she is a senior. She is in color guard and volunteers with therapy horses.
Ashleigh is the youngest at 13 and will be starting her second year homeschooling. Ashleigh loves her service dog, Maya.
We live in the country and have two other dogs, Bailey and Bella. We love hiking, exploring, camping and listening to audio books and music.
Our Morning:
Our day starts early on a Monday morning as Dennis and William get up at 5:00 am and head to work at the ambulance and hospital.
Katie and Thomas get up next, let the dogs out and get ready for the bus which picks them up at 6:30 a.m.
Ashleigh and I eat breakfast later around 9:00 (Ashleigh usually needs just a little more sleep before her day starts) and sit down to go over the lessons for the week. We love anything hands on and try to make our lessons as busy as possible.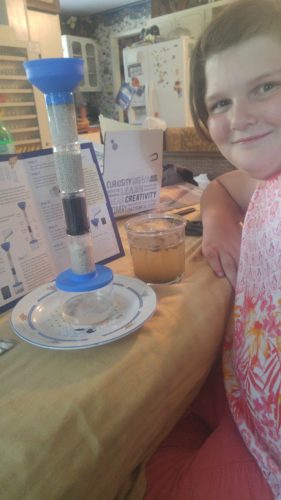 Currently we are combining Life of Fred Math, Little Passports science experiments with science lessons and using online learning tools as we work to establish a routine and appropriate grade level lessons, but a friend recently introduced us to Timberdoodle and we have been researching their curriculum and can not wait to start using it!
Our Afternoon:
Ashleigh and I head out to Occupational Therapy where Ashleigh runs through an obstacle course several times that includes ropes, slides, swings and balls before heading to speech where she plays Who's Who.
A stop for ice cream at Baskin Robins before heading back home.
Our Evening:
At home again Ashleigh works on her lessons for Monday, while we wait for Thomas to get off the bus.
Then I start dinner before heading to pick up Katie from practice after school.
Thomas, Ashleigh and Katie help me finish dinner, sweep floors and do laundry. K
atie and Thomas do their homework.
Dinner of spaghetti, salad and fresh fruit before a little bit of free time for everyone before bed.
Tonight we play a quick game of Kilter while watching a favorite show on television.
Just for Fun:
Katie is in color guard and volunteers with horse therapy.
Thomas is just starting to learn about caving and rapelling and is a Boy Scout.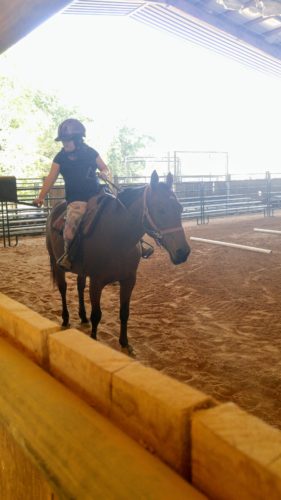 Ashleigh has equine therapy and aqua therapy and all three kids are active in church.
Plus we have a huge family that lives nearby and we are always busy with birthdays, day trips and other fun events.
Sometimes it makes it hard to just sit down and do our lessons, but short lesson times work best for Ashleigh and sometimes we save activities to do at doctor offices or while waiting on the others to finish their activities and that also helps pass the time. We just have to make sure everything is planned well ahead of time. Ashleigh LOVES a schedule!
Follow Us on Facebook:
https://www.facebook.com/summer.l.kelley.98