Sawadee ka! Greetings from Thailand.
I am Rachel, a family medicine physician, currently stay-at-home mom, focusing on supporting my husband, raising my children, and ministering in Thailand. When I have a chance, I enjoy reading, learn to play fiddle, and writing, including trying to keep a blog.
Philip is finishing up his PhD. dissertation on Thai politics, mostly working from home.
Eris, nearly 10 years, is my writer and all around helper.
Meriel, soon-to-be eight years, is my budding artist and musician, playing the tin whistle.
Hollis, just 6 years, is full of enthusiasm for just about anything, but she especially enjoys math, reading, and playing her melodica.
Simeon, coming up on 4 years, is our resident "snuggler," demonstrating exuberant love to all of us.
Calla, 7 months, gives us big smiles and keep us on our toes by eating anything we leave in her reach.
Our Morning:
We don't have a predictable starting time to our days. I like to sleep in as late as I'm let, and I let the kids sleep in if they are able. Sometimes, Hollis will finish her schoolwork before her older sisters are awake; other days, we don't get anything done other than housework before lunch.
Typically, though, we start our school day around 9:30, after cleaning up from breakfast. I begin singing a song to alert my children to gather their school supplies and come to the couch for Bible story. After Bible-time, each child looks in her "Assignment Notebook" and picks a task to begin. Simeon has a few activities from which to choose, such as alphabet cards, counting cards, threading beads, BambinoLUK.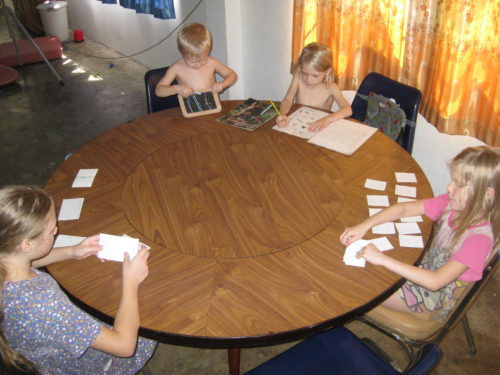 Our curriculum is an amalgamation, purchased and given; new and second hand. Eris and Meriel do "Five-a-day" math problems, as outlined in "Math On the Level," while I supervise Hollis's "Printing with Pictures" handwriting or working math problems with Inchimals. Later, I give Eris and Meriel a combined lesson on equivalent fractions.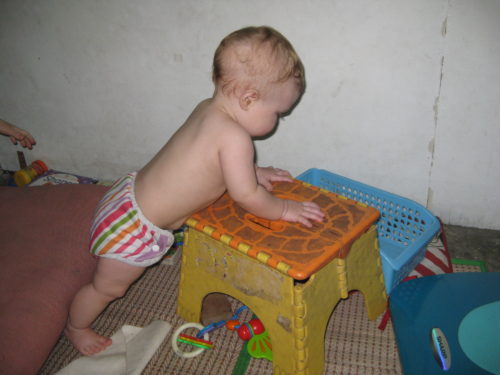 Calla continually wants to pull herself up to standing by the couch, so Simeon scatters cushions on the floor to break her many falls. The older girls complete their "A Reason for Writing" handwriting pages, and Hollis takes a break while I hang up the laundry on the upstairs balcony. Sometime around noon, we're all getting hungry, so I have some of the kids start getting ready for lunch while Meriel reads aloud from "More Days Go By" Pathway reader.

Our Afternoon:
Before long, we are all dressed and ready to walk to the little two-table restaurant for lunch. Since she only has one burner, the cook takes a while to prepare our 6 rice dishes. Daddy and Simeon walk to the local store to buy milk and eggs. I bring along "Story of the World 3" to read aloud and discuss while we wait. Just as we finish reading about the Trail of Tears, the first plate arrive on the table. As we eat, we share what we have been learning with Daddy: memorized Bible verses, math facts, the history story.
If I'm lucky, Calla won't fall asleep during lunch and will be ready for a good nap when we get back home. I use this free-hands time for music lessons and practice: piano for Eris, tin whistle for Meriel, and melodica for Hollis. I'm not a music teacher, but I can read music and am managing to impart the basics to the kids.
Eris finishes her school day by reading on her Kindle her assigned historical fiction or non-fiction for the week or discussing a philosophy lesson with Daddy in his upstairs study. I help Meriel with a spelling lesson from an old copy of "Spelling Power," given to us by a family with five grown children. Then Hollis needs help with her Logik Street game; she can't figure out which house the turtle can be in.

Our Evening:
By the time Calla is up from her nap, rain clouds are forming, so I dash upstairs to bring in the laundry before changing her diaper and nursing her. The rain cools it down enough, that I can turn the stove on to make supper without dripping sweat. Eris chops potatoes and grates cheese, I shred cabbage and mince onion and garlic. We all sit down together for a "Not Quite Colcannon" supper. The colcannon we had in the United States had sour cream and was baked in an oven, luxuries we have to do without here, but it's still delicious.
We all work together to clean up from supper, then we need to do a "laundry challenge." It started a few years ago with trying to fold and put away as much laundry as we could in fifteen minutes. These days, depending on how big the pile is, we may have to go a bit longer, but we still make it a fun time working together. Simeon is the "gopher," putting away small items like napkins and towels as we fold.
While kids get ready for bed while I start some preparations for the next school day: writing math "five-a-days," review math and history lessons. My goal is that by the time the kids are in bed, I can relax: read, play my fiddle if Calla cooperates, spend time with Philip. Currently Calla teething, so she doesn't want to be out of my arms much, but I can read a bit of "The Story of English" or "The Guernsey Literary and Potato Peel Pie Society" while soothing her to sleep.

Just for Fun:
Our school week runs from Monday to Thursday. On Fridays, we do special activities such as art or history projects or sometimes just relax from a busy week. I chose Friday to be our "fun day" and "rest day" since our weekends are so busy.
We live above Tawipon Church, a church plant of Immanuel Baptist in Bangkok. On Saturday mornings, we teach Kids' Club, a program of games, Bible stories, and crafts for the children in the area. These children have never heard about Jesus or the God of the Bible, so it's an exciting privilege to share in this ministry.
Sundays, we drive about forty-five minutes into Bangkok to attend Immanuel, since we don't have Sunday morning service here yet. In the afternoon, we take advantage of being in the city to go grocery shopping or to Neilson Hays Library, Bangkok's private English library. We often get pizza or hamburgers – yay for American food – on the way home!
By Monday morning, we're ready for another typical day for the only farang (white) family in Pratunam Pra-in, Ayutthaya, Thailand.
Follow Our Blog:
Eris' Day
Hello! My name is Eris Cardin and I home-school. I have four other siblings that also home-school. Their names are Meriel, Hollis, Simeon. They are 7, 6, and 3 years old. I also have a baby sister, Calla, who is six months old. I'll be ten years next week.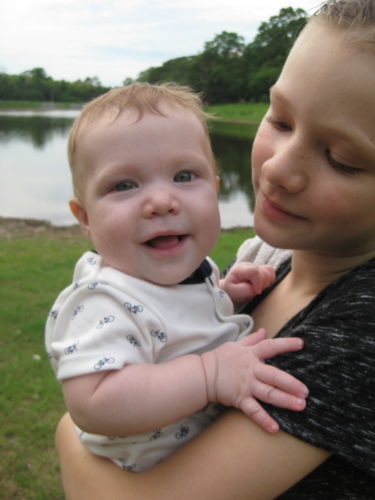 Meriel likes reading. Hollis likes playing all kinds of games and Simeon plays with her. Calla is just a baby, but she has fun standing up while clinging to the couch and crawling all over the place. I like writing and reading stories.
My mother is a doctor, but she mostly stays home with us. My father is a researcher. I like my family!

Our Morning:
Fridays are the least busy school days for us, with our home-school schedule. Sometimes I can even finish my school before lunch. On Friday mornings I wake up with a sense of excitement, 'I will have the whole afternoon to read and write!'
My cursive handwriting practice doesn't take long: on Fridays about 15 minutes. First I would write down part of the Bible verse I'm practicing that week and then I color some of the picture framing it. I go on like that until the verse is all written and the picture colored as much as I want it to be colored. I like doing handwriting with A Reason For Handwriting!
After that we do Bible study. We recite the books of the New Testament and practice our Bible verse for that week. Next my mother reads a chapter of the Bible to us and we practice our Bible verse some more. The next thing we do is sing the ABC song with my little brother, Simeon. After that it's time to start a different subject.

Our Afternoon:
One of my favorite Friday subjects is philosophy. I do it with my father. I have a philosophy book that studies and explains questions and answers from ancient times philosophers. One day, after a lesson with my father I made an announcement.
"I think Democritus is the most interesting philosopher we've studied so far. I would like to learn more about him when I'm older."
"Maybe you can," my father replied.
I think one of the reasons I'm interested in Democritus is because he's the philosopher I most disagree with, especially with his wild ideas of how the world works. There are a few things I agree with him on, otherwise I might not have found him so interesting.

Our Evening:
When school's done I have the rest of the day to do what I please. It's great if I have a good book to finish, or an exciting story to write! And that is a Friday school day.
Just for Fun:
I usually do Piano as my last subject each day. Sometimes I sit down at the piano, but most of the time, now, I just watch videos on Home School Piano. I learn some really interesting things, but I know a lot of the basics already. The last song I learned to play was "Happy Birthday!" for all my family's birthdays coming up this summer.