Lucy's Day
Hi! I'm Lucy, age 11. I have six siblings, a mama who homeschools me, and a daddy who works at a Christian summer camp.
I love animals and art, and wish we had a pet. Maybe someday…
I also like to bake, as do my sisters Lindy and Betsy.
Lindy is 6 and Betsy is 4. My brothers are 9-year-old Henry, 8-year-old Lincoln, 2-year-old Boone, and 7-month-old Winston. We all love to play Legos!
Our Morning:
On a typical summer day, Mama would wake us kids up at about 8:30 AM. Lindy would immediately hop out of bed, full of energy as usual, and run out of our room. Betsy would soon follow, but I like to take my time. Maybe that's why I'm usually late for breakfast!
After eating a yummy meal of oatmeal or cereal, while Mama read from the Bible, we would gather together for chores. My sisters would be dispatched to fold clean rags, and my brothers to unload the dishwasher. I would have to fold laundry! Not the most exciting chore ever, but it has got to be done every day.
Then it would be time for school, "table time," we call it. That's because we do it at the table. I would probably have math, journaling, and grammar. We're learning the Spanish language online, so add that to the list of schoolwork. I like Spanish and journaling. It is fun to write about my day, or a book that I'm reading. 7th grade math is not the easiest, and I could say the same for grammar.
Our Afternoon:
After table time, we eat a hearty lunch, made by Mama, and then it's free time!
Lincoln heads for his Legos, with Henry generally following close behind. Boone and Winston have to take naps, and the little girls often play with dolls. I might play with them, or do a craft like jewelry making. I sometimes draw, which is really fun.
We all read for a while, and then pull on our swimsuits! Pool time! Since we live at a summer camp, it takes us two minutes to arrive at a water park in our our old blue Scout. Waterslides on a hot day are like sledding on a cold one – LOTS of fun! Hours fly by quickly, and too soon it's time to go home.
Our Evening:
When Daddy comes back from work for dinner, he is always welcomed with squeals of delight! He is usually hungry, so Mama prepares a big meal, usually using some kind of meat in it. Mmm!
We read together, or watch a movie, and then it is time for bed.
We fall asleep fast, tired out from a great day.
Just for Fun:
Some days we ride our bikes together. That is always fun, and tiresome too! We live on a hill, so riding back up to our home is always a challenge.
Henry's Day
Hi! I'm Henry. I am 9 years old. I have six siblings and I'm the second oldest kid in our family.
11-year-old Lucy is my older sister. She enjoys art and adventures.
Lincoln is 8 . He likes Legos and chocolate cake.
Lindy, at age 6, likes dolls and princesses.
4-year-old Betsy likes the same things as Lindy.
Boone, age 2, loves fire trucks and Daddy.
7-month-old Winston loves all of us.
Mama likes cooking and homeschooling, and Daddy likes working on cars and playing with us.
(By the way, I like Legos, working on cars with Daddy,and playing with my siblings.)
Our Morning:
On an average day in our family, Mama will wake us up, we'll all get dressed,and then we'll go downstairs.
Our breakfast usually consists of oatmeal with applesauce and blueberries, or cereal.( Sometimes both.)
After breakfast, we will start school. School for me, is usually made up of a page of math, one or two pages of language, maybe cursive or journal, and sometimes Spanish or spelling.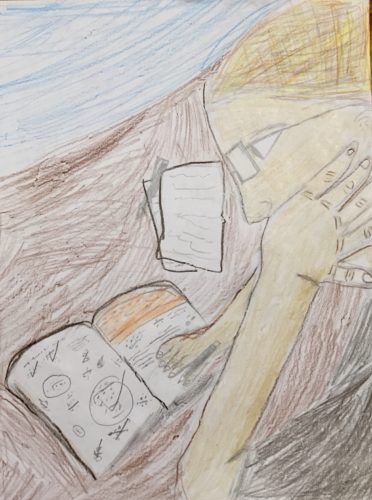 Our Afternoon:
Lunch comes after school. Lunch (made by Mama) might be a peanut butter and jelly sandwich with grapes, oranges, and Goldfish crackers on the side. Sometimes we eat lunch at the pool of the summer camp we live at. That's fun.
After we eat , we jump in, to cool off.
After lunch, we read while the younger ones take naps.
Then, we play until dinner.
Our Evening:
Dinner might be chicken, or a salad. Or chicken and a salad.
After dinner, we will play, or read.
Then, we get our pajamas on and go to bed. That's a day in the life of me. 
Just for Fun:
Sometimes we have a smaller school assignment, so that we have time to go on a bike ride or a hike or something. That's pretty fun.