Did you know that on November 11th-13th over 100 National Parks will offer free admission? What a fun thing to do on your Veteran's Day weekend. Of course, it's not just fun either, it is a natural field trip. What will you learn about? Geology? Geography? Zoology? Botany? History?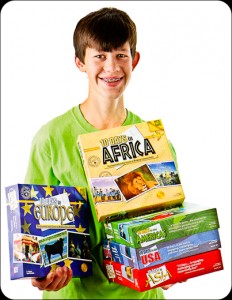 We are probably all in agreement that the best way to learn USA geography is to experience it, but there are very few families that will actually be able to immerse themselves in visiting all the states. The next best way? 10 Days in the USA!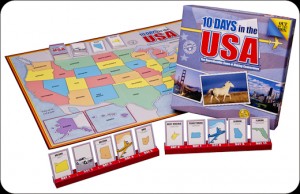 3 years of playing … still popular!
Dianna from East Texas

A Wonderful way to learn Geography!
Lisa Guy from Kalispell, MT

Our favorite geography game
Andrea Jones from Howard, OH

We are ALL learning with this game!!
Elizabeth Joyce from Winslow, ME

Kids learn without even realizing it!
Jennifer Schneider from Rhinelander, WI

I highly value these games in our home!
Angie W. from Bend, Oregon
Read the whole reviews and many more here!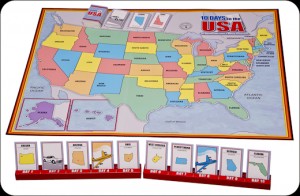 In each game, the goal is to create a 10-day journey through the selected country or continent via foot, car, plane, or railroad… The game is easy to learn, so most children will catch on within a couple of minutes. But the strategy involved compels players to take their time and study the board, trying to make sense of the itinerary they drew. Adding to the need for thoughtful contemplation is the rule that there is no opportunity to rearrange tiles once you've put them on your rack. Your only option is to discard a card and hope to draw a more appropriate card. Read more here, or download a PDF of the rules here.
Or watch the publisher's how to play video:

Enter the Drawing
You can enter one of two ways. Option one is simple, just leave a comment in the white box at the very bottom of this post (below the Facebook comments) answering this mandatory question: Which National Park will you visit on the free days? Or which would be your dream family trip?Or, if you prefer, you can enter using the PunchTab Widget. The advantage to PunchTab is that you will be able to accumulate multiple entries, but if it doesn't work for you please don't despair; leaving a comment will enter you just as surely, and it only takes one entry to win! 1 winner will be drawn Monday, October 31st at noon PST and must have a USA shipping address to qualify. You'll have 48 hours to claim your prize! (Fine print about Timberdoodle Drawings can be found here.)

The Winner Is
Beth Blanchard is the winner of 10 Days in the USA. She says that, "Yellowstone, Acadia and the Grand Canyon are top of my list. We live right outside the Great Smokey National Park and visit there as often as we can." Congratulations Beth!