It is natural for parents to officially begin homeschooling at a Kindergarten level. So what's important to teach in Kindergarten? Our first priority is to set the child up to enjoy learning. After all, a life-long habit of delight in learning will serve him well all life long and will make your job as a teacher incredibly easy. We make it fun by having lots of hands-on learning, from geography puzzles and sticker books to Magnatab, art and science kits and even Inchimals, our favorite introductory math manipulative. We add in thinking skills workbooks (your child will see them as brainteasers!) a couple of colorful workbooks, read-alouds and more. Finally we top it off with a friendly and engaging reading program designed to take your child from letter recognition to solid beginning reading. (We include a more rigorous phonics program in 1st grade, but at this tender age we simply want to thrill them with reading correctly!)
May We Give You Something?
To enter, simply tell us which item you want to win from the Kindergarten Curriculum Kit, and why. If you want extra entries, you can also use PunchTab. Out of all the comments and entries we receive, we will draw one name (courtesy of random.org) and award them the item they picked. Winners must have a USA shipping address, see all the rules here. Drawing ends Monday, April 16th at 10AM PST.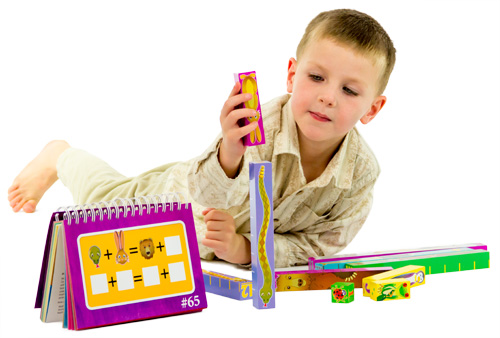 "Thank you so much for putting together the BEST Kindergarten Complete Curriculum ever! I am confident this is the best money I have ever spent on my kids, and this package was well worth it! I can't believe how many materials you get! My son is so excited everyday to start school. His favorite parts are the Smencil and the Stepping into Science kit. My favorite is EVERYTHING. Thank you so much! Can't wait to order the first grade curriculum! I would recommend this Kindergarten curriculum to everyone!"
Reviewer: F.G. from Fairport, NY
Winner
Our winner was Christine Jelinek who said, "I would love to win the Developing the Early Learner books. My daughter is almost 5 and would love these." Congratulations Christine! (Winner chosen by random.org, thank you all for entering!)