When we started our business in 1985, it was the ability to build your own curriculum that set Timberdoodle apart. While we still offer parents the ability to tailor their curriculum to their unique family, we meet more and more families each year who are simply not comfortable with that particular feature of home teaching. For those of you who would rather someone else made some of the curriculum decisions, we are delighted to offer what we believe is the best of the best in convenient packages.
Why Timberdoodle?
• Our selection is based on over twenty-five years of homeschooling and selling homeschool supplies. We know what works.
• Critical thinking skills are the backbone of all our core curriculums.
• Because we do not self-publish, we are not limited by our abilities or resources, but have the entire world to hand-select from. That greater flexibility allows us to choose only what we consider the finest without having to promote anything just because it is "ours!"
• We incorporate a wide selection of innovative, hands-on educational tools to stimulate the brain while engaging all learning styles.
• Our goal is that your children become wildly successful at independent learning. From the earliest grades we've designed our curriculum to coach them towards taking charge of their own education – taking pressure off you in the process.
New for 2013!!!
In light of all that, we had three problems we wanted to solve in our 2013 Core Curriculum Updates:
You need an easy way to combine children of different grades in some subjects.
Some of you have a budget that demands a more minimalistic version than our 2012 editions.
Others of you asked what our dream curriculum would be if money was no object.
In order to address this we now offer three crazy-smart options for each grade; choose the kit that best fits your budget, your time, and your entire family's learning adventure this year.
Basic
The core to choose if:
You are looking for the most economical way to cover all your child will need to know for the state tests, and you are able to supplement science and history through library visits, garage sales or homeschool swaps.
You are teaching more than one child and want to combine multiple grades for science and history. In this case, choose the complete core in the grade level that teaches the science and history you want, and a basic core for all the other grades since all our elementary science and history courses can easily be used for grades K-8.
Pros
Economical
Less stress on the teaching parent when you use the same science and history for all ages.
Cons
You do need to add a history and science curriculum.
You will find you are missing some of the hands-on elements that you've come to expect from Timberdoodle.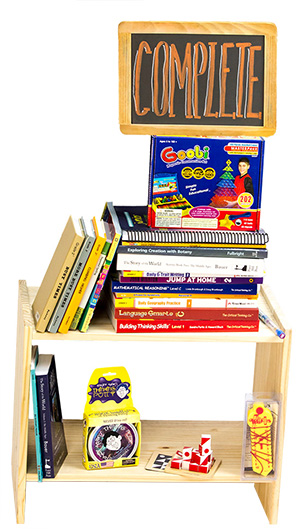 Complete
The core to choose if:
You loved last year's curriculum kit and want to have the same experience again.
You are teaching one child and you want to cover all your bases.
You are teaching multiple children and this is the core that will provide the science and history you want to use with the entire family.
You have multiple children that are independent, passionate learners and want their own science and history.
Pros
Open the box and you are ready to go, no need to raid a friend's bookshelf for science or history!
Lots of fun extras from Thinking Putty to robotics. It is these additions that have families returning to Timberdoodle year after year.
Cons
If you are teaching more than one child and they are not independent learners, guess what you will be doing all day? It can be either great fun or a parent's nightmare.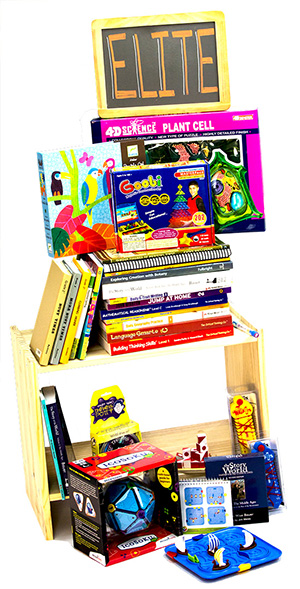 Elite
The core you'll see pictured most often on our web site and the core to choose if:
Your child is an eager learner with an insatiable appetite for more. It contains the bits and pieces that children love, and makes them glad they are learning at home.
Pros
This is crazy-smart homeschooling at its best. Play a harmonica, learn a foreign language, or dabble in clay, the Elite option is the best of the best.
Cons
Cost, but in comparison to private schools, even our Elite is a crazy-smart value.